In replacement of what was supposedly a whole day of sand and sea at Siquijor, we visited Twin Lakes which was about an hour drive away from the city. The road going there was bumpy and uphill. It was very cold that morning and not to mention foggy.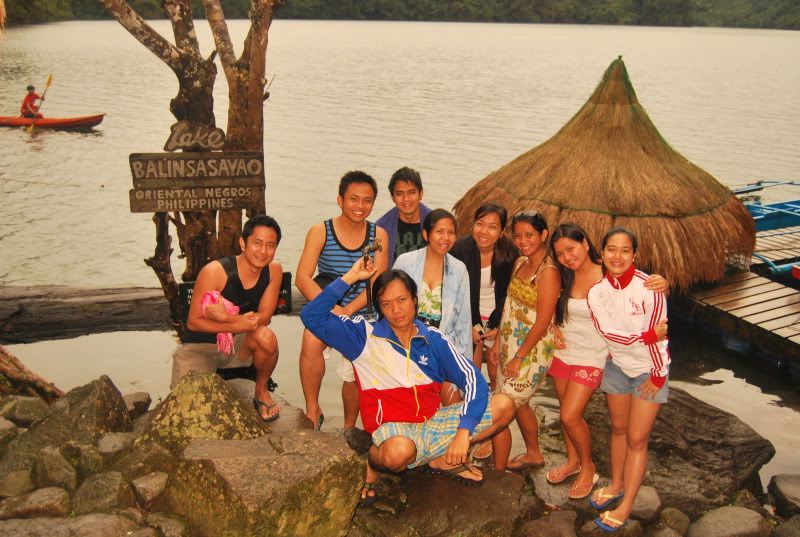 Despite the chill, we were determined to make the most out of that experience. The boys went on kayaking while the girls were sitting pretty on a boat. We went to the other side, climbed a treehouse where the other lake can be viewed.
The entertaining pair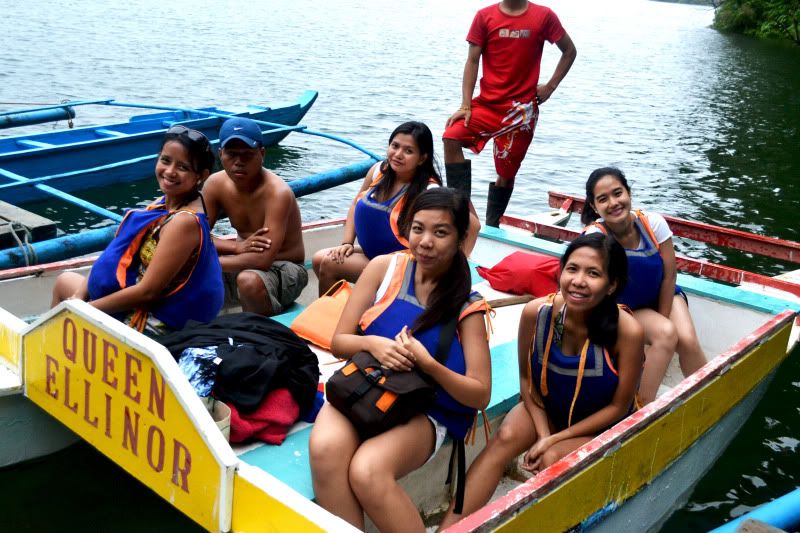 Sitting pretty
The competitive pair
We discovered that Jean's jacket had gone missing upon our return. The mystery of the jacket which, well, put two and two together and it's not that hard to figure out that somebody took the jacket. Buhbye jacket.
We arrrived at the Dumaguete port and boarded the fastcraft to Siquijor. About an hour, which frankly seemed like an eternity of angry waves, we reached Siquijor. We had four freaking hours to cover the most locations. Now I know how those contestants in the Amazing Race felt.
Snap and snap! Everything should be covered in 5 minutes!
First stop: Cambugahay Falls.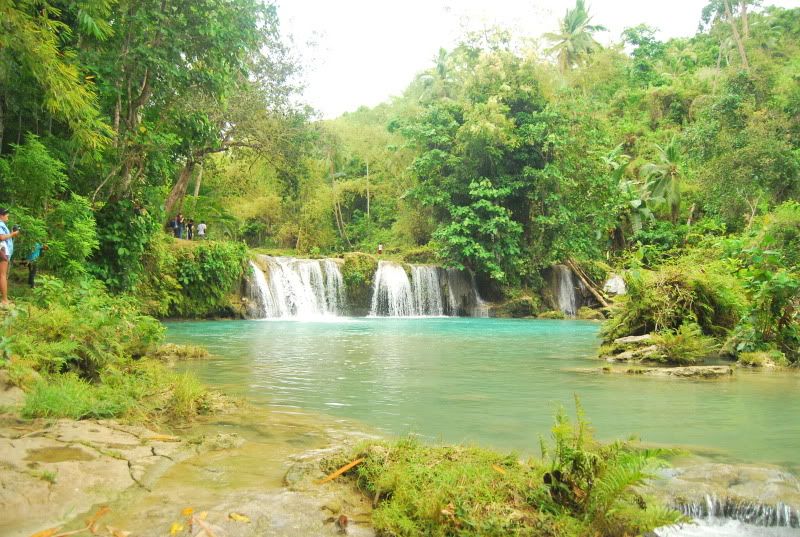 So breathtaking...
Tabing Ilog much? LOL.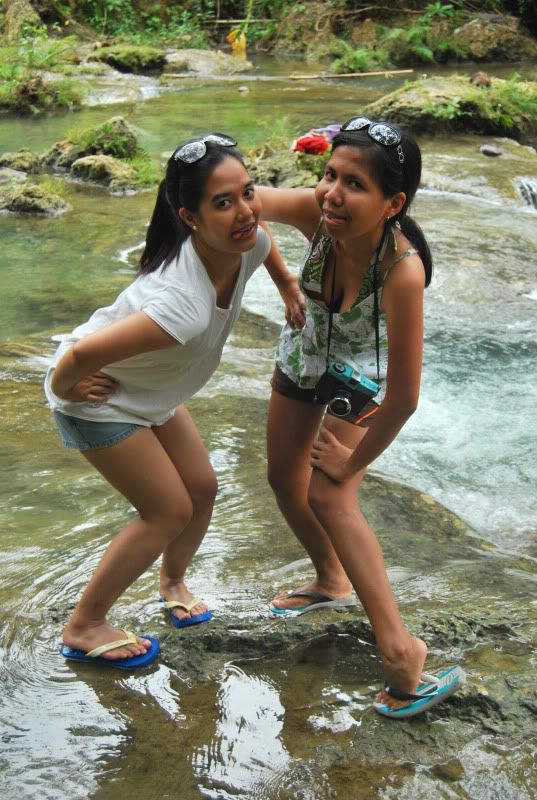 Still trying to figure out what it was they were trying to do here.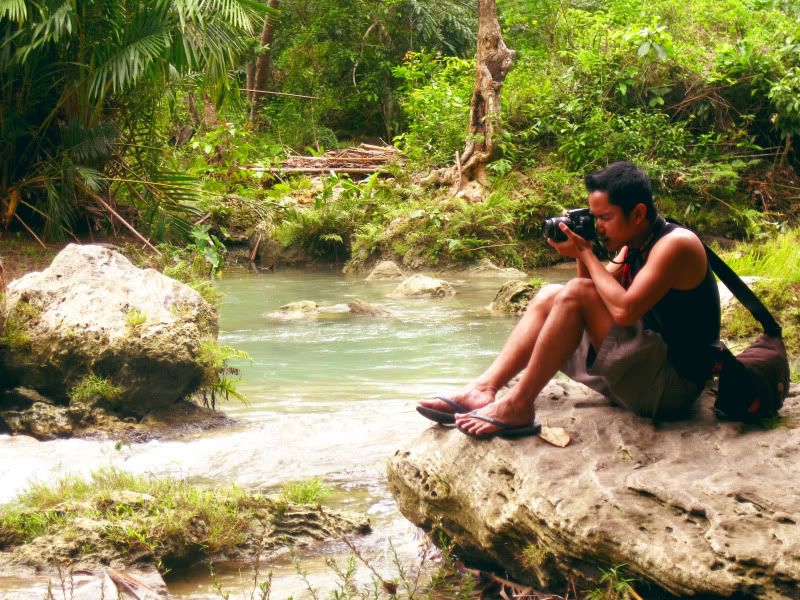 I like this. :)
So picturesque and yet we were not able to take a dip in the water. Time constraints. Booness. Poor us.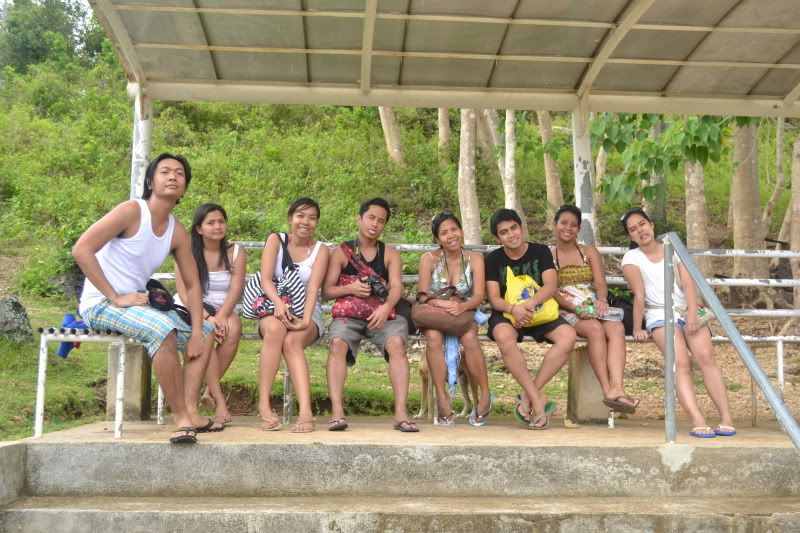 Tired!
The long drive could have been worth it had we been able to swim. Next stop was the Lazi convent and the church.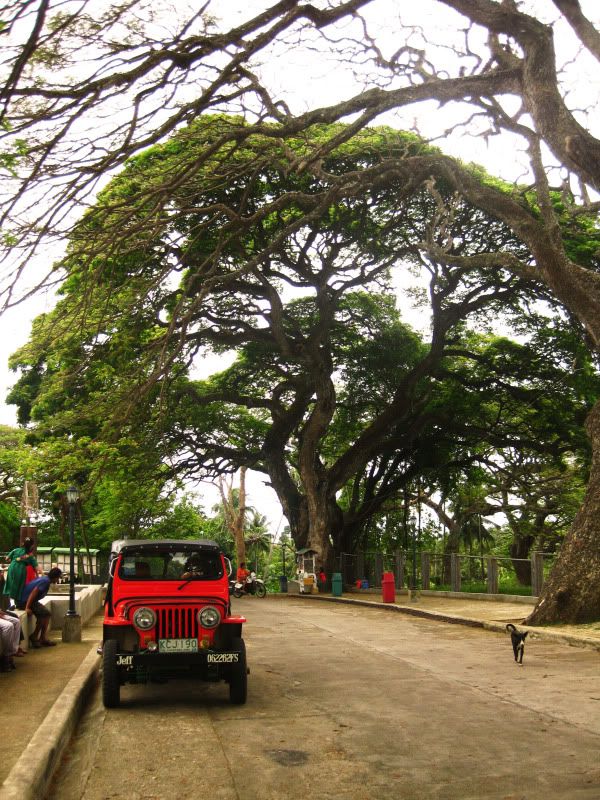 Well we stayed there for a good ten minutes. It's crazy. I was finally getting giddy because I was pretty sure that I would be able to finally swim but lo and behold, we only have about 45 minutes at Palaton beach; and that would only be enough for lunch and photo ops. The shore was pristine but the sea itself was full of grass and lots of sea urchins.
Palaton Beach.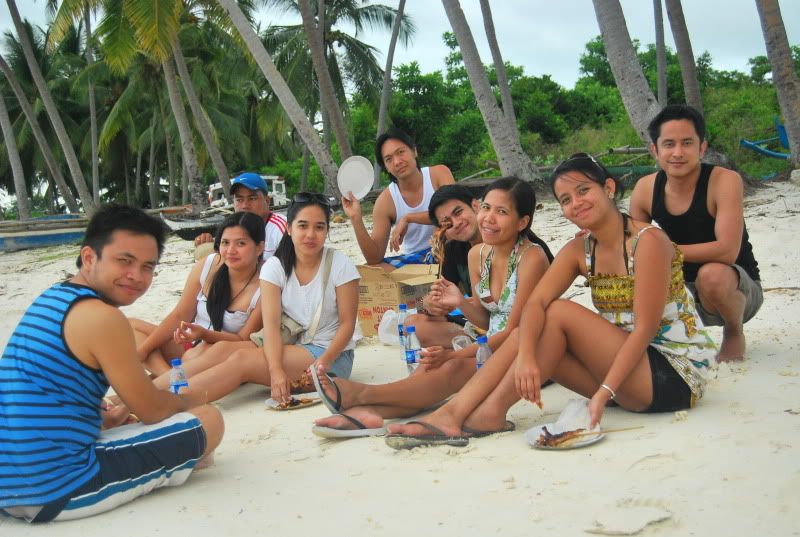 Lunch by the shore.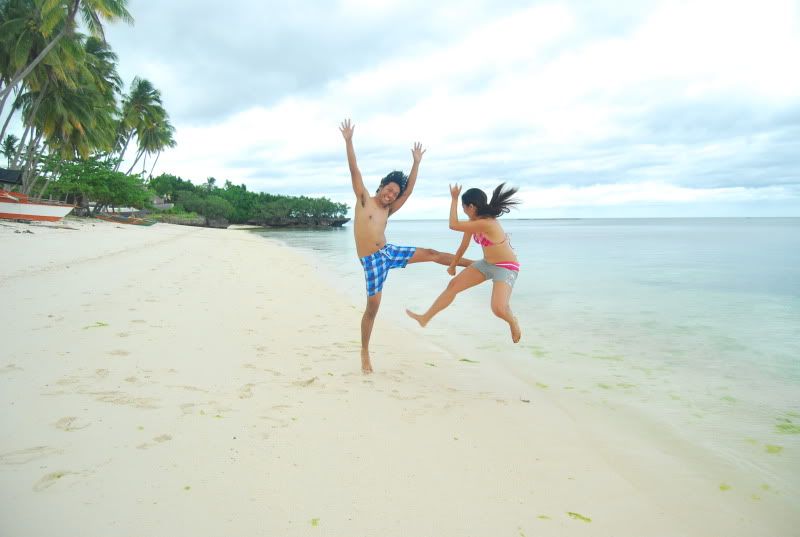 Street fighter. Hayah!
Let's just be merry and happy.
And we actually thought that our misery was over. We were already planning our drinking session while on our way to the port. Imagine our faces when we were told that the fastcraft had a problem and that the next trip would be the following morning. Problem was, our flight was the following morning. so we went cruising around town, panic-stricken and thinking of the best solution. We called our contacts in Manila to have us sleep at the depot. Paul even called the navy for escort haha. We headed to the office of Delta where other stranded passengers were waiting and gave us the option to rent a diving boat which could hold 50 people. I was not convinced since the sea was very turbulent but having no choice we decided to go for it. While all of this was happening, Harry was sleeping on the front seat. OH-EM-GEE. He had the nerve to actually sleep??? Good thing somebody at the port called our driver (who was much, much more helpful) that Delta would be sailing. So we hurried to the port and ran over to the boat when the boatman (if he was called such) asked for our tickets. Harry was poker faced and told him that we had no tickets because he exchanged it for the following day's trip. We were really begging for them to let us in the ferry. Thanks to the helpful people at port who just picked ten tickets from their pile and gave it to the boatmen. I swear, I could have pushed Harry straight to the water. He even was able to crack jokes about what happened. I decided to sleep it the whole trip off. Stress!
I could barely talk to Harry upon arriving at Dumaguete so we had a plan to go out in groups and leave him at the hotel. How dense and insensitive could this man be??? Didn't he realize that we do not want him near us? Bob and I went for a walk and dropped by the bell tower and cathedral where I lit candles for thanksgiving and for my non-existent lovelife.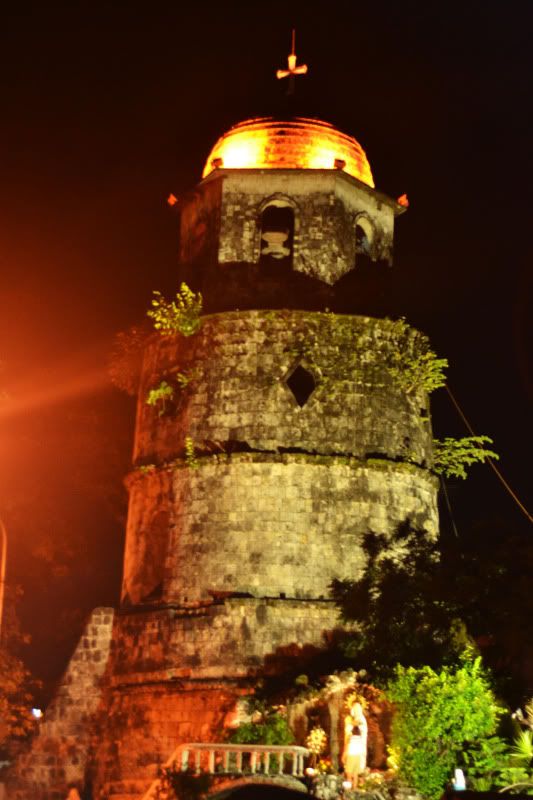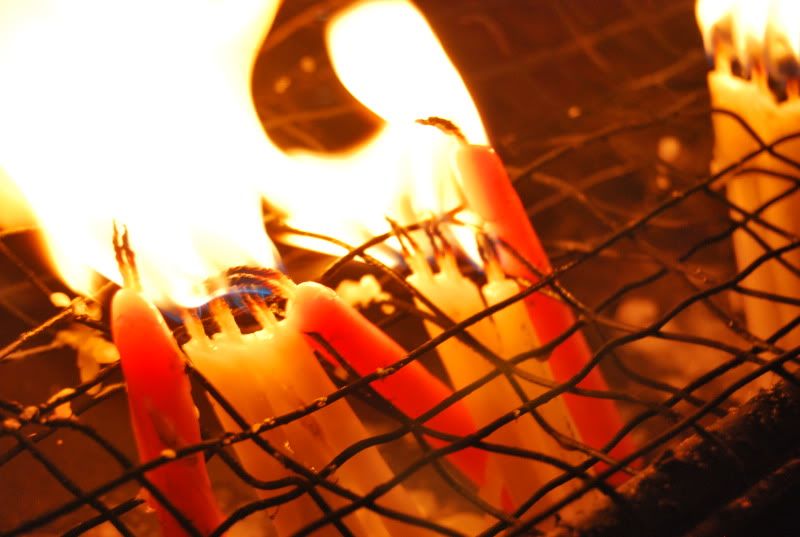 Pink is the color of my energy.
We then converged but the others could not escape harry so we had no choice but to let him tag along. Anyway, just like a cat, we lost him an hour after. Mwahaha. Last night was spent drinking inside a non-alcoholic hotel. We were stubborn like that.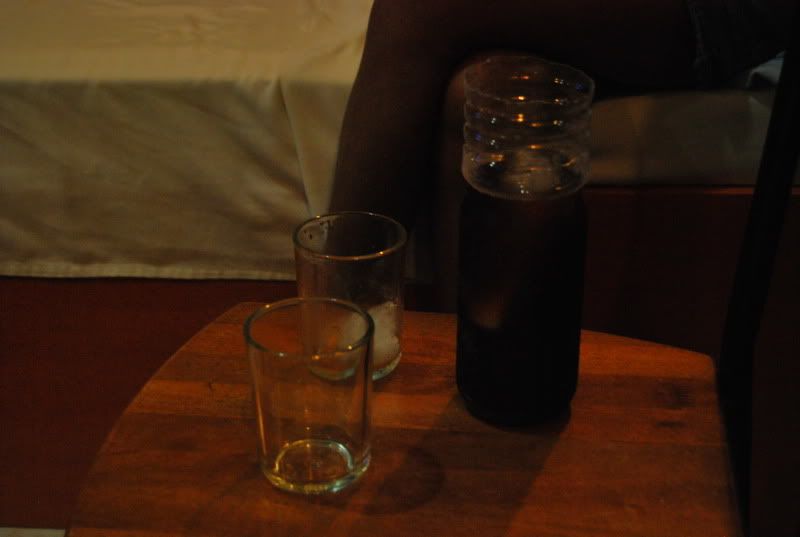 Rum coke in a mineral water bottle. Resourceful kids!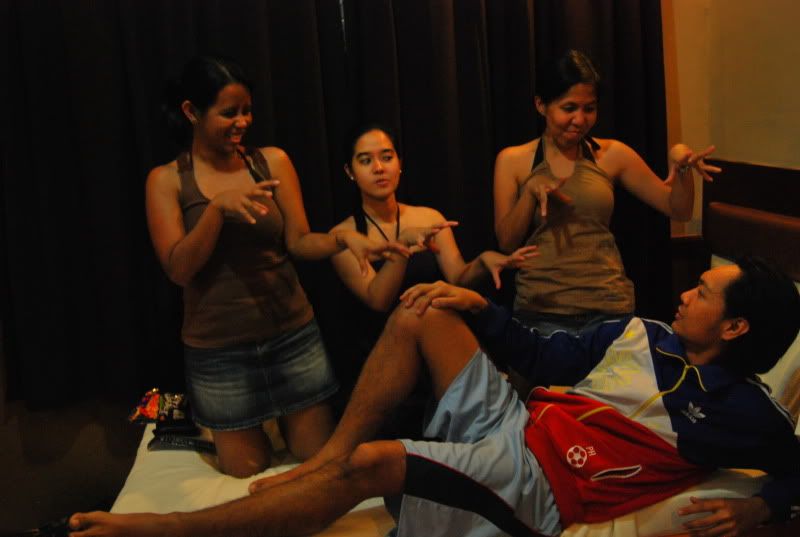 What's this?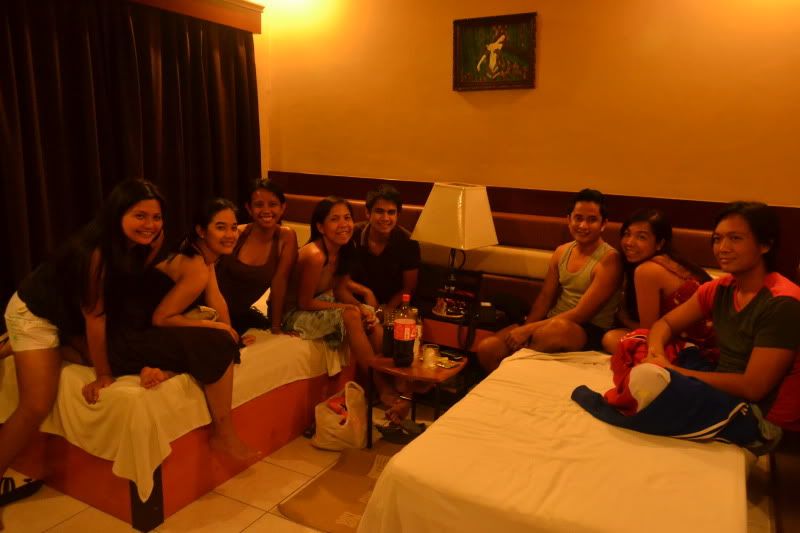 The gang with Julius taking the photo.
Cough syrup
No comment. Hahaha.
Oh and the award of the night goes to...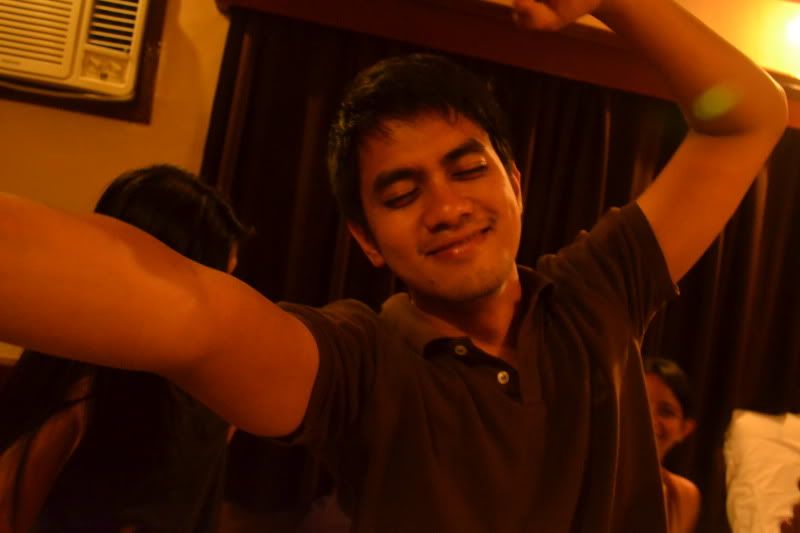 Need I explain more?
Well the rest of the night was spent getting crazy...and damn IT WAS CRAZY.
The whole trip could have been better because we felt that we were not able to get the value of our money but nevertheless it was fun because of the people I was with. We are even planning the next trip and I am getting really excited! No more tour guides this time.
So let us cap this trip with this very summery song:
I kiss you, and nobody needs to know.
*****
Dumaguete-Siquijor Series: