Folks it's time again for the annual hair makeover. Read: when she touches the hair, something must be terribly off in the stratosphere. I attempted to get a digiperm at Regine's Salon but the stylist went against it. Two weeks later, I stumbled upon a promo from awesome.ph and bought a voucher worth PhP 2000 for a digiperm at
Azta Urban Salon at Robinson's Pioneer
and prayed to God that they would allow me to get curls this time. The service was valued at PhP 4500 so it was a pretty good deal.
I've had my hair permed before but it was just the regular cold perm and it did not look natural. I was going for the beach wave look this time. I scheduled an appointment two weeks ahead and it was a good thing that I did because the service takes about five hours and apparently they only have one machine so they could only do one customer at a time.
First they shampooed my hair then applied the chemicals. I had to wait about 20 minutes after application before it was rinsed. I knew that I was going to be in there for quite some time so I brought reinforcements.
After rinsing my hair came the tedious process of rolling them into erm...rollers. The rollers came in different diameters and they used a combination of medium and large on my hair. Wendy, the one doing the perming, told me that it's better to use the smaller ones because the curls will loosen in the next days.

Wendy rolling my hair. I love her!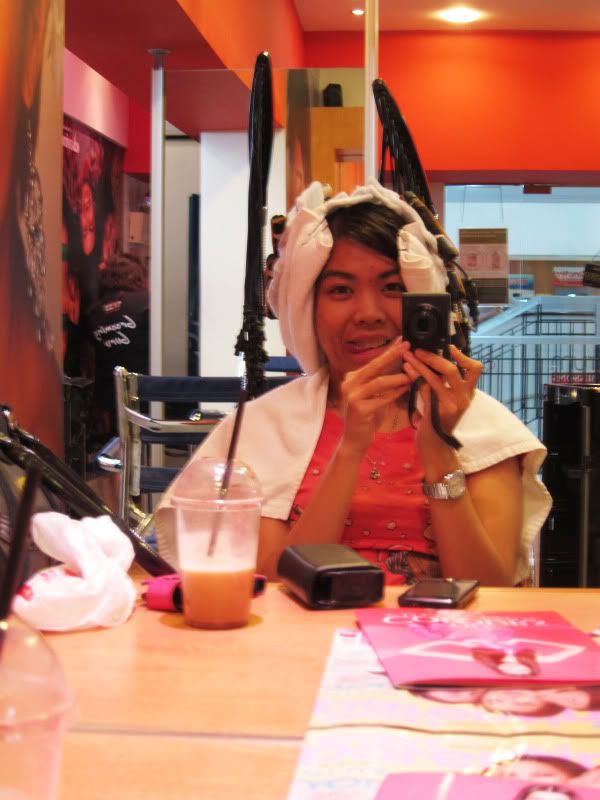 All rolled up!
Next was the exciting part: attaching the rollers to the perming machine. Wendy was kind enough to take a photo of it. It was very alien-like bordering freaky. Oh and the rollers combined were heavy! My scalp was practically crying.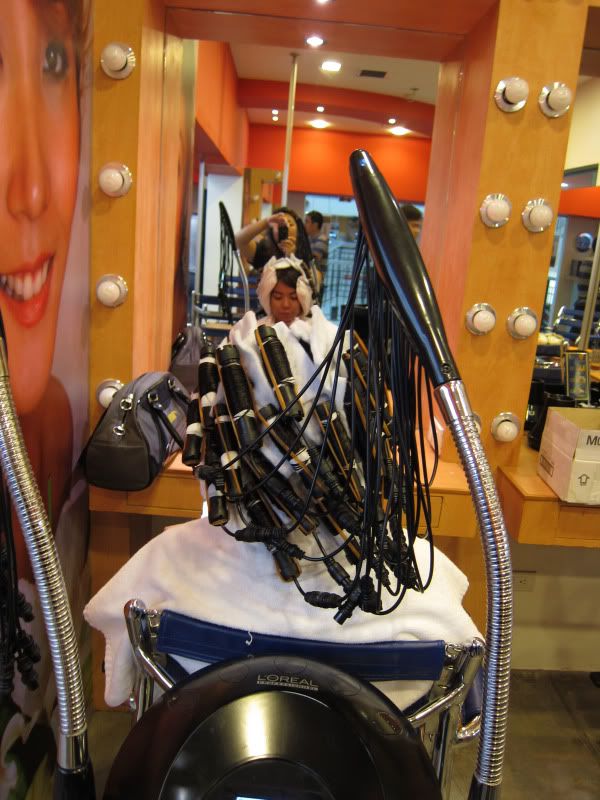 Does this remind you of Species or what?
After all the work, I must say that...I loooooooove my hair! It was definitely the change that I needed.