Another new player in the Philippine milk tea scene,
Gong Cha
hailed from our neighboring country Taiwan and was established in 2006. Its first branch in the country was put up at the SM Mall of Asia and recently opened its second branch at the Sky Garden of SM North EDSA.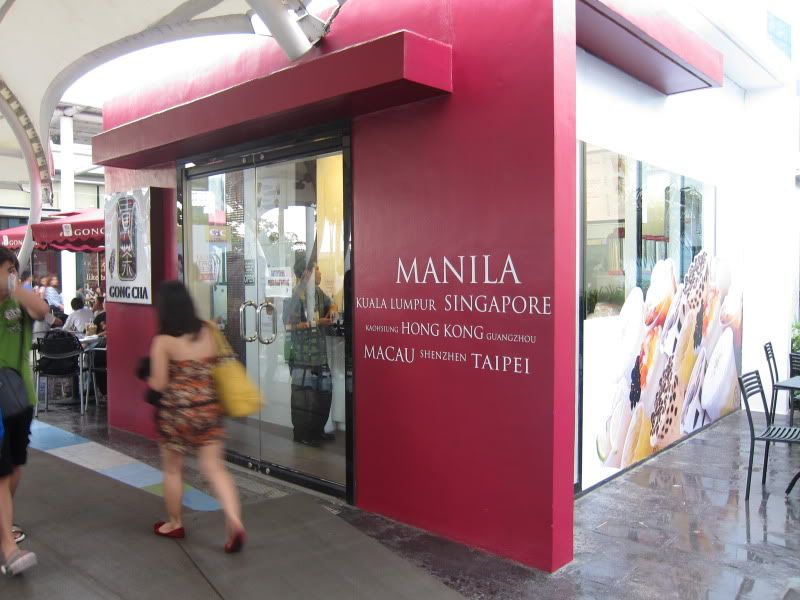 I was actually unaware of the existence of Gong Cha until I saw this girl enter Zara carrying a cup. I was pretty sure that there's no milk tea place in Trinoma so I inched a little closer to take a peek at the name written on her drink. I vaguely remembered that there was store being constructed at the Sky Garden but little did I know that it would be serving milk tea. I immediately crossed over to the other mall and found myself inside their store.
First thing I noticed was that they do not have that extensive of a
menu
unlike
Serenitea
and
Cha Time
. It was fickle people friendly if I may say.
And just like the two other milk tea places I've mentioned, you may opt to adjust your sugar the way you like it.
Since I was a Gong Cha virgin, I got mysef one of the house specialties,
GC Milk Green Tea
.
GC Milk Green Tea (M - PhP 80; L - PhP 95)
+PhP 15 for pearls
So what is the proper way of drinking the house special? See photo below.
Well, I skipped numbers 1 and 2 and went straight to 3. I'm best in not following instructions like that.
I usually have 50% sugar only but I found my drink too bland tasting. Maybe I should have went for at least 70%. The good thing was they do not skimp on the pearls although just like the others, pearls are not automatic with their drinks and I love my pearls!
The following day, I met up with a friend and tried the
Taro Milk Tea
this time.
Taro Milk Tea (M - PhP 80; L - PhP 95)
+PhP 15 for pearls
This time I went for 70% sugar.
Well what do you know? Still bland. Maybe I should really have it at 100% sugar.
Overall, I did not really feel sparks with Gong Cha unlike Cha Time. It was so-so but they have pretty interesting stuff on their menu like the
Pearl Ice Smoothie
which is like your unconventional
halo-halo
. However, the house specials they say are worth the visit. I heard that the
GC Wintermelon House Special
tastes really good so I guess I'll have it on my next visit. This time I'm getting 100% sugar.