Conti's has always been the go to place whenever we cannot decide where to eat. This was the case again when my family cannot get into Yakimix nor Mann Hann last Father's Day and we found ourselves seated inside Conti's at Trinoma.
We were starving and we got ourselves two types of salad. I have always loved their
Russian Potato Salad
so I made sure that my mom gets one. The salad has red beets and chicken as well. It is just the right crunch and the dressing is not overwhelming.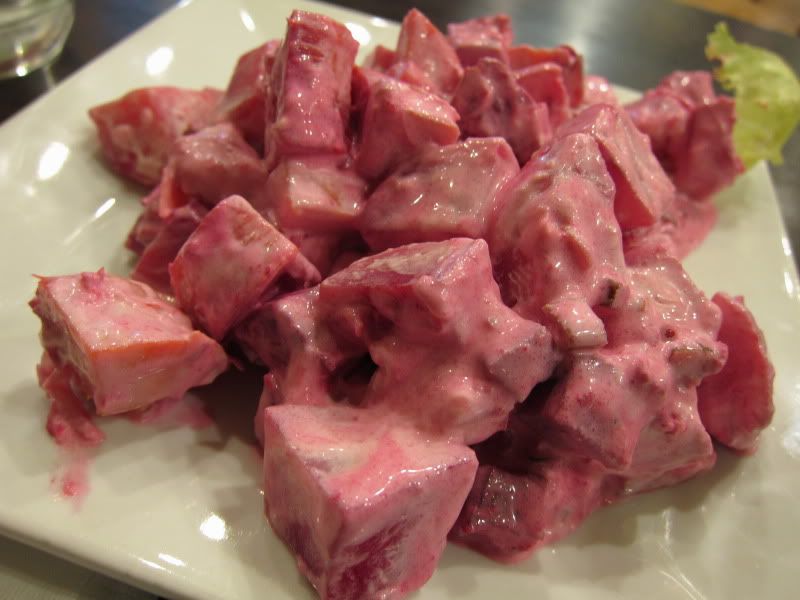 Russian Potato Salad (PhP 115)
I've mentioned how my family is a fan of greens so we tried the
Symphony Salad
which is lettuce with almonds, tomatoes, grapes, diced apples and egg tossed with vinaigrette dressing. I'm biased to mangoes so I liked this one.
Symphony Salad (PhP 185)
My father's the king today so he had the
Ribeye Steak
. My father did not actually know the weight of his steak that he was surprised come payment time. Haha. But it was okay, this lunch was for him anyway. The steak was also served with Russian Potato Salad. My father has his meat well-done, I would have preferred medium rare but then that dish is not mine, isn't it? Hehe.
Ribeye Steak (PhP 295/100g)
My mom, on the other hand, loves shrimp. She had Baked Prawns which was served with Japanese rice and crab salad. I tasted a bit but my mouth got itchy afterwards because I'm allergic to shrimp. There are times that my body would not react to them but unfortunately, this day it did. From the little that I sampled, the shrimp was delicious and perfect with the rice. Sorry for the blurred photo. My mom was seated on the opposite side that I had to scramble to get a good shot.
Baked Prawns (PhP 295)
My sisters Julienne and Dana both got chicken dishes. Julienne had the
Chicken Ballotine
, which was basically rolled chicken fillet with cream sauce. Dana, being the least adventurous of us had the good old
Crispy Chicken
. As they say, you could never go wrong with fried chicken.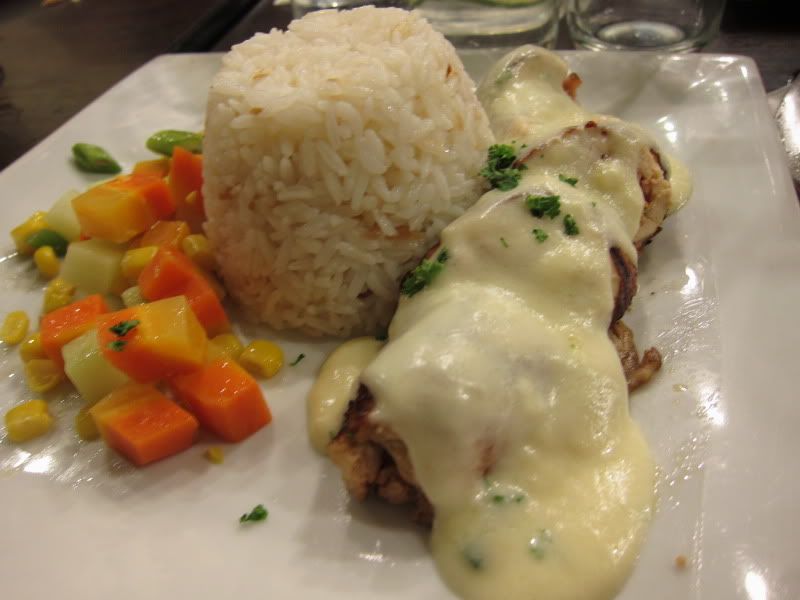 Chicken Ballotine (PhP 225)
Crispy Chicken (PhP 195)
Since I'm trying to be healthy (ehem), I decided to go for
Parmesan Fish Fillet with Parsley Sauce
. the fish was cooked just right and the sauce was very tasty. It was served with almond pilaf and buttered vegetables.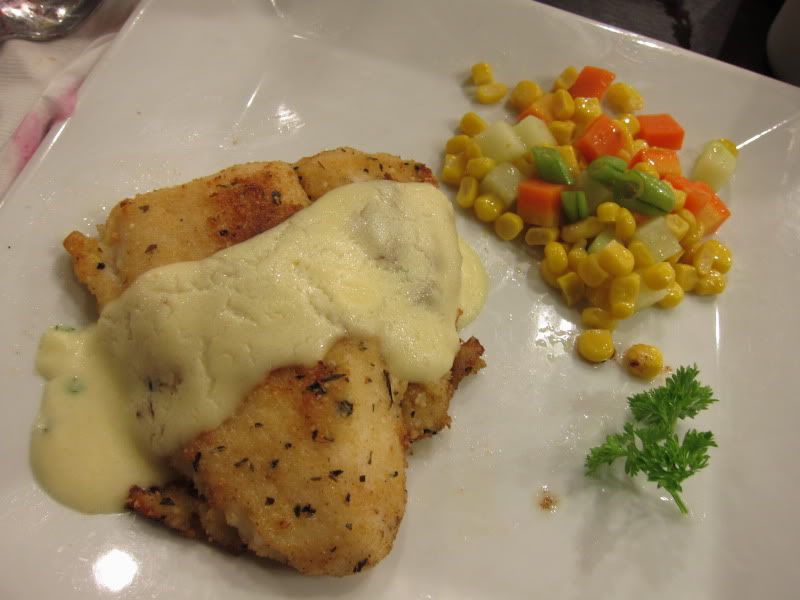 Parmesan Fish Fillet with Parsley Sauce (PhP 230)
Of course you have to drown your food with drinks. Conti's offers a variety of drinks to pair your food with.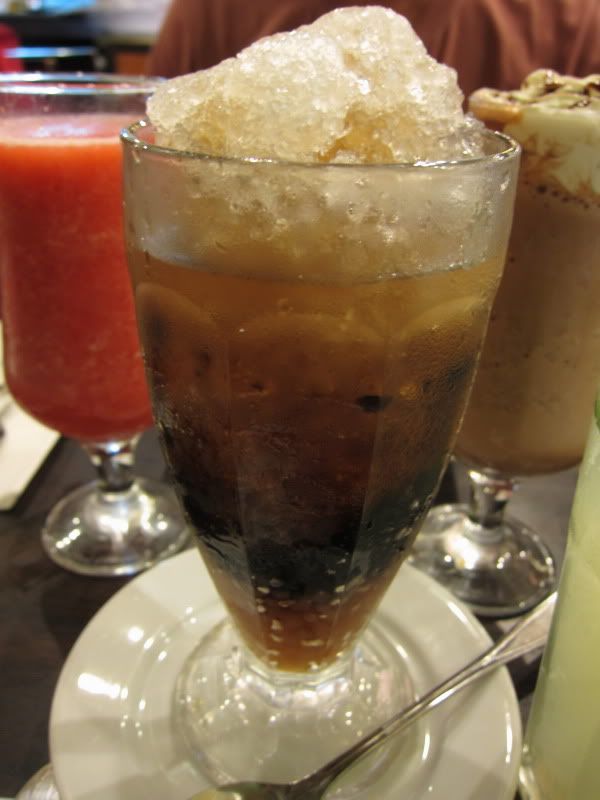 Black Gulaman and Sago (PhP 70)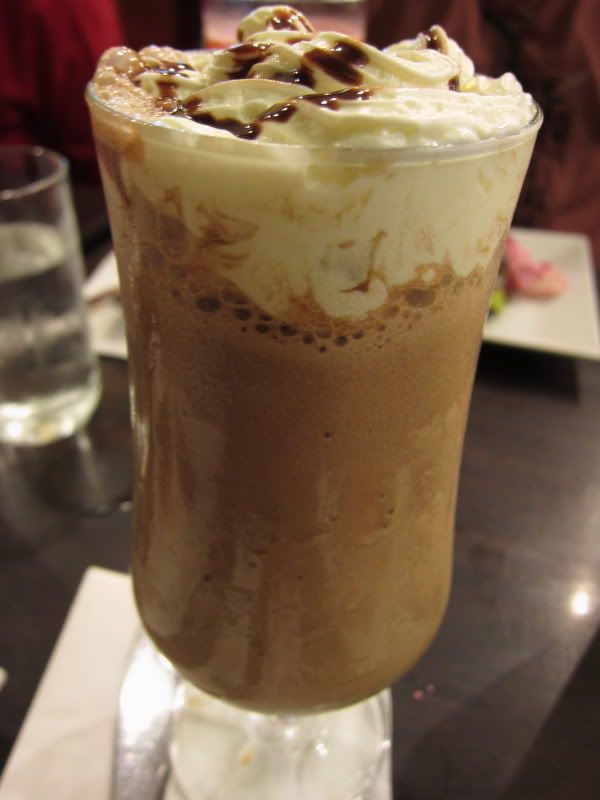 Mocha Frappe (PhP 125)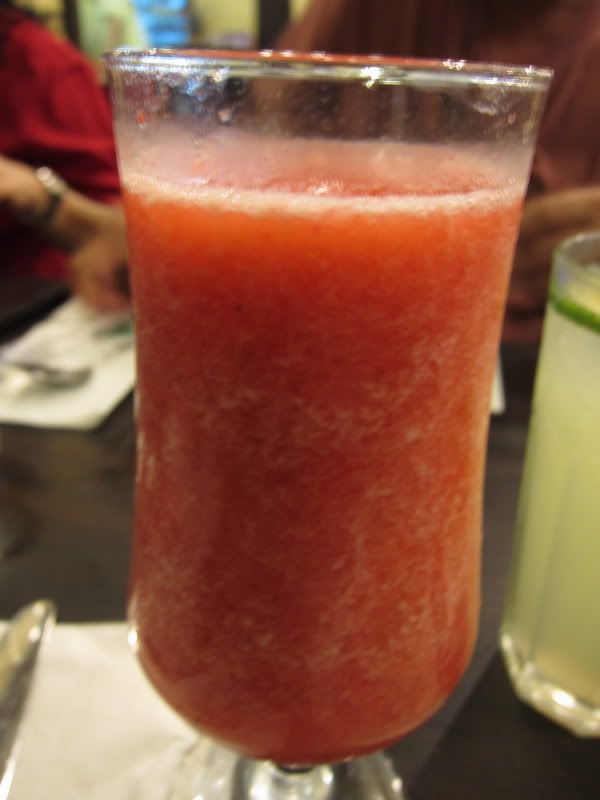 Strawberry Shake (PhP 95)
Aside from the restaurant, Conti's is known for their baked goodies, savory and sweet, as well. I personally love their Mango Bravo, which they are known for.
Oh and they gave Papa something that day.
How nice! :)
There's a reason why we keep coming back to Conti's. Good food plus really nice customer service. :)