By my title alone, you can already guess what area of the country I'm talking about. I was sent to a beautiful city down south. Hello Davao!
I almost did not make it to my flight as the traffic along EDSA was just horrendous. I was actually surprised that I was upgraded to business class. Woot! Finally, I was able to experience an airline upgrade. I was even on the upper deck.
Well, the difference ends on the width of the seat as the food they served were still crackers and Happy peanuts. Boo. I was sent with my officemate, Isa, and we were checked in at the Waterfront Insular Hotel which was kind of old but is still nice. It is by the sea so you can stroll every morning which, sadly, we were not able to do. You can't swim in the water though because it is polluted. I am just heartbroken that on the other side of the beach is Samal Island and I wasn't even able to get a glimpse of it.
The first five six days were all work and no play. We were practically dead by the time we reached our hotel every single day that we cannot even drag ourselves sometimes to eat dinner. This is how you do a sloth inspired meal. Can I just say that Waterfront's Chocolate Delice Cake is the bomb!
Room service plus delivery = happiness!
We made sure to have time to ourselves last Sunday. We took pictures at the hotel. Lots of it actually but I wouldn't want this post to be a photodump. Haha.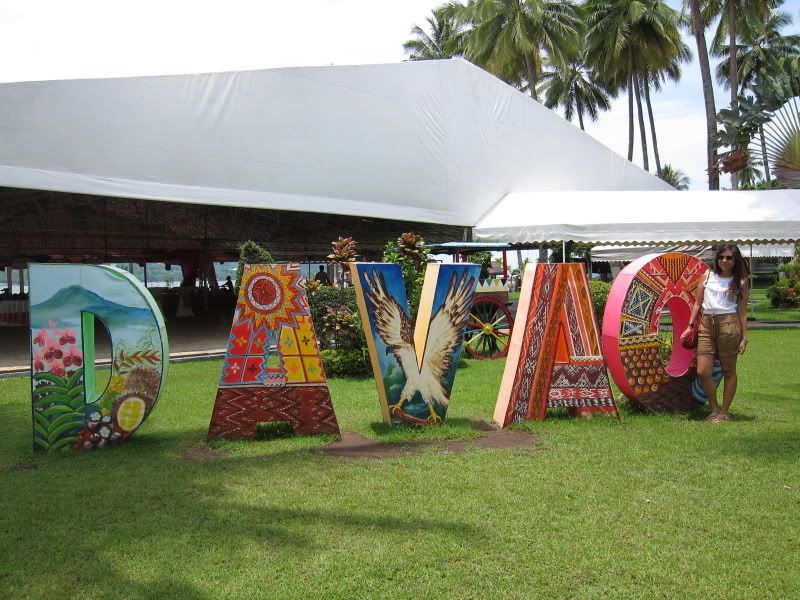 Davao!
We heard mass at the
San Pedro Cathedral
. Downtown was festive as the Kadayawan festival was ongoing. I was actually confused whether to listen to the priest or look outside. Bad I know.
We then headed for
Eden Nature Park
which was situated at the top of a hill. It costed us PhP1,500 to go there because the cab driver waited for us for two hours. Park entrance was at PhP180 and it comes with free snacks while the tour was at Php 100. Once you reach the reception you have to enlist for the next tour which is hourly from 8AM to 4 PM. Not bad as the park was really nice. I was in love with the flowers and herbs. Yes, herbs. I have never smelled such citrusy citronella!
Blue Jade!
lettuce!
I was able to sneak in some outfit shots.
top: Plains & Prints
bag and shorts: Mango
flats: Aldo
I got these really pretty engraved leather bracelets from The Bead Shop. It was kind of expensive at Php295 each but I was really sold on the words written.
Maxi dress at PhP 495 from Php1,900! Vest at PhP495 also.
I also got myself bangles made from shells. The thin ones were at PhP40 each while the thicker ones were at PhP75.
In anticipation of the beach season, I also bought a sarong.
I promise to go back to Davao and explore more of this beautiful city. Who's with me?