I finally was able to return! I was on site at our Pasig office which was along C-5 when other colleagues invited me over to have lunch. We decided to go to the nearby Mom and Tina's Bakery Cafe.
Mom and Tina's Bakery Cafe started as a pasttime which eventually became the establishment that it is now. The moment you enter the cafe, you feel like being transported into somebody's kitchen.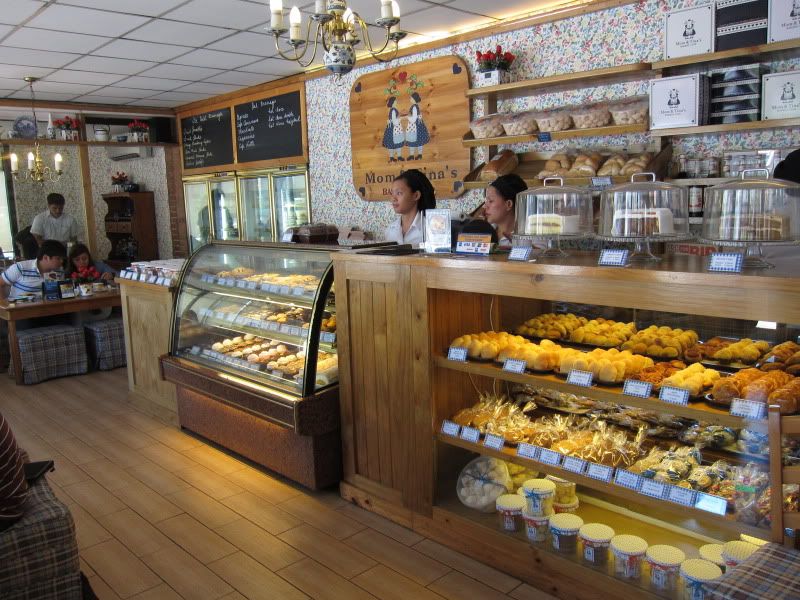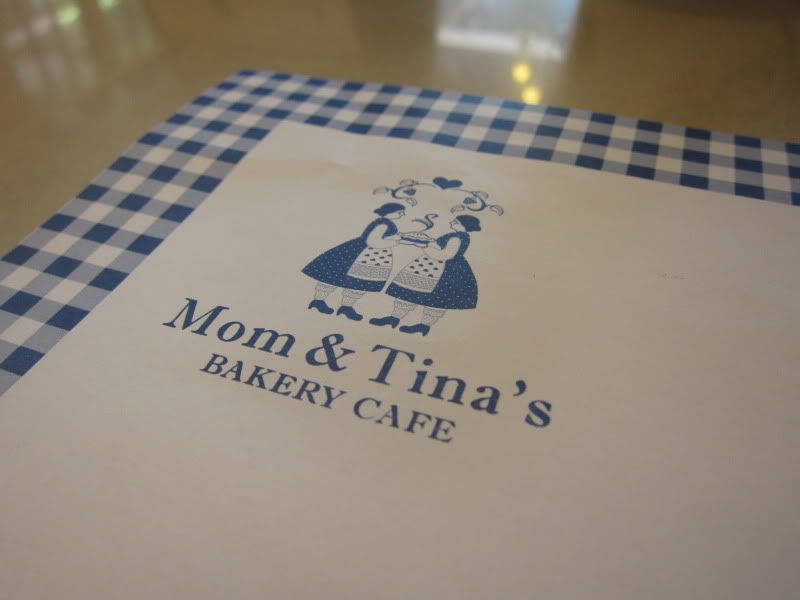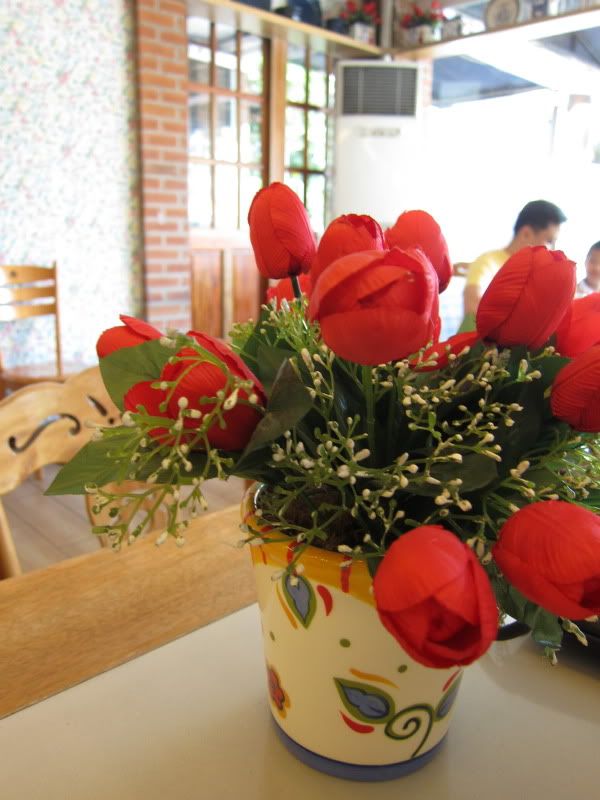 Mom and Tina's was packed for lunch but it was a good thing that we were able to secure a table. For starters, I had the Soup of the Day. It came with a very tasty garlic roll which complemented the soup.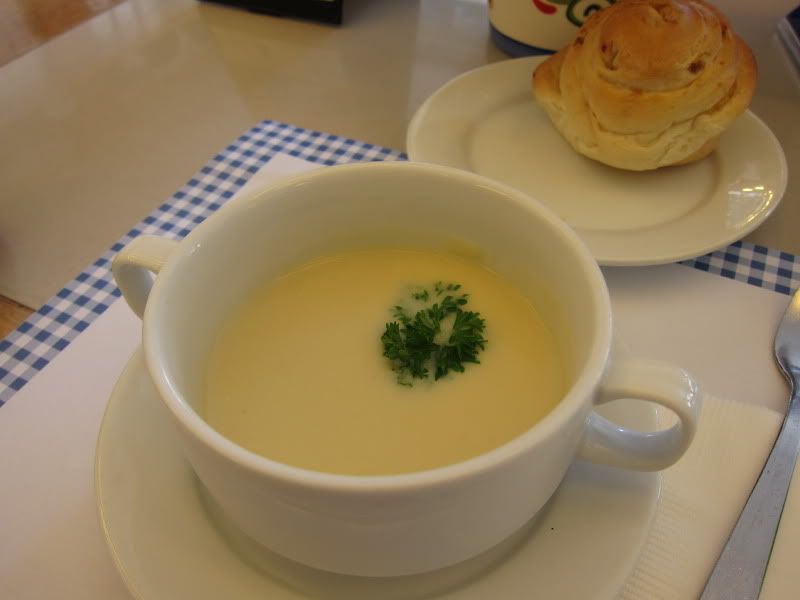 Soup of the Day (PhP 55/half-order)
For the main course, being the potato lover that I am, I had the Chicken Alexander. It was a bowl of mashed potatoes with chicken, mushroom and corn. I did not recall ordering rice but the waiter gave me a cup so I just ate it with the potatoes. Then I decided to forgo the rice because I realized that what I was doing was actually carbs on carbs.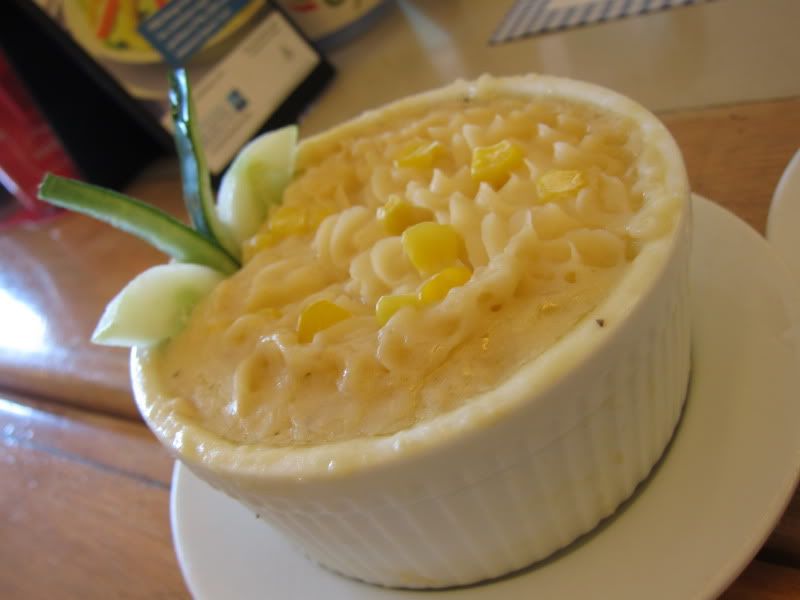 Chicken Alexander (PhP 175)
I had the Green Iced Tea while my officemate had the Blue Lemonade. Looks cool side by side eh?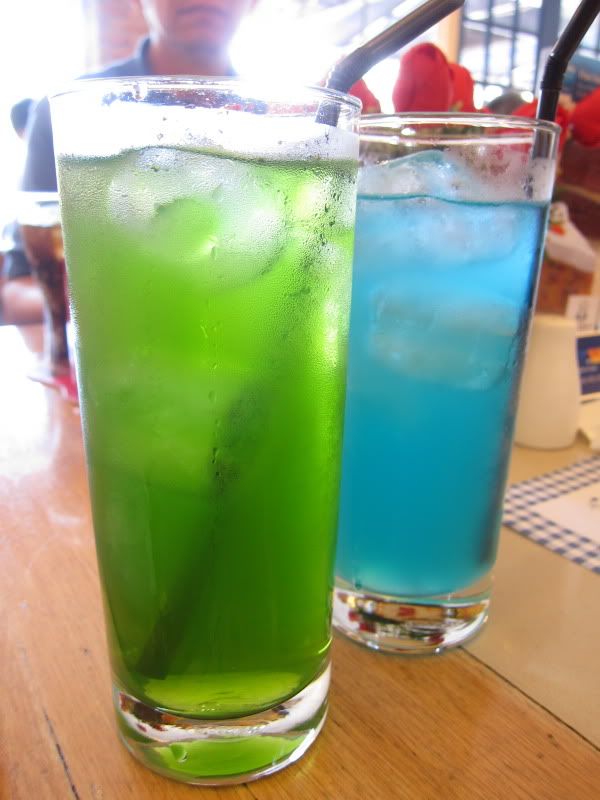 Green Iced Tea and Blue Lemonade (PhP 50/glass or PhP 70/bottomless)
My other officemates had the following and they all had praises for what they ate:
Lengua con Setas (PhP 360)
Roast Pork (PhP 250)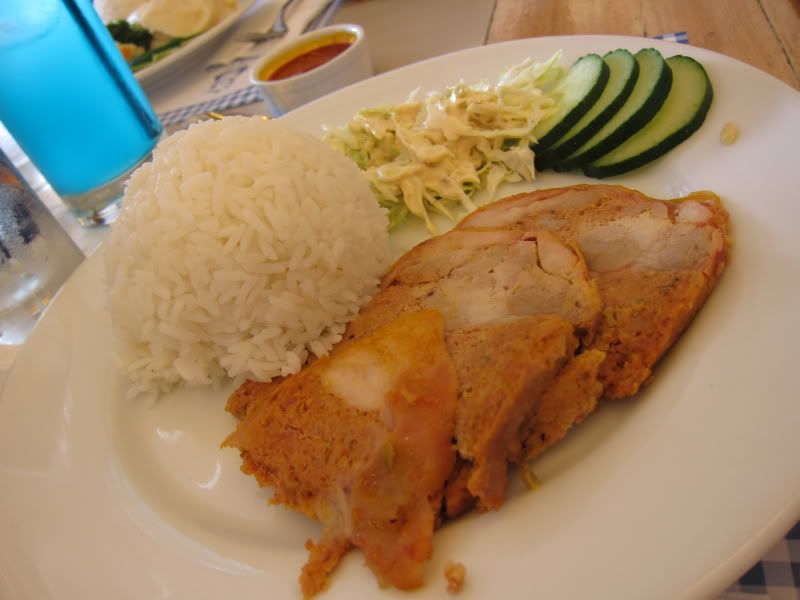 Chickn Relleno (PhP 190)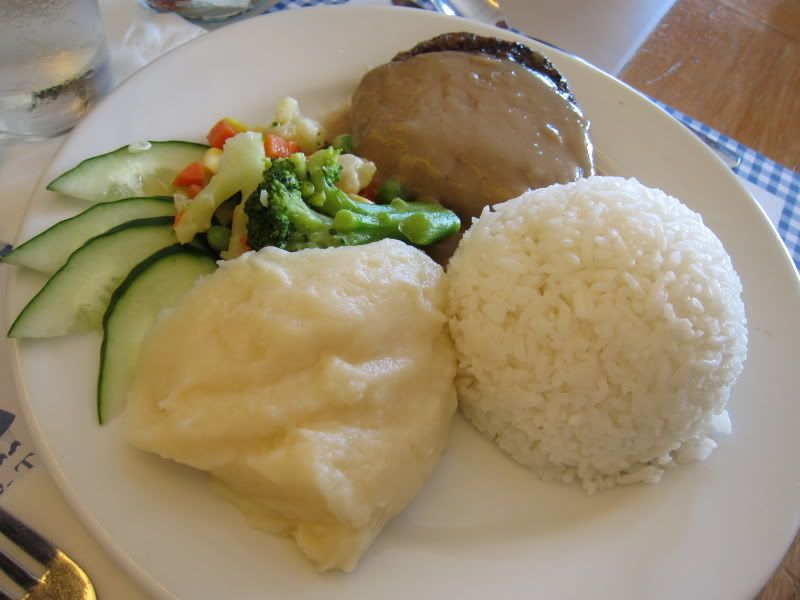 Salisbury Steak (PhP 215/quarter pound)
Of course after a hearty meal comes a delectable dessert. Mom and Tina's did not disappoint.
Blueberry Cheesecake (PhP 135)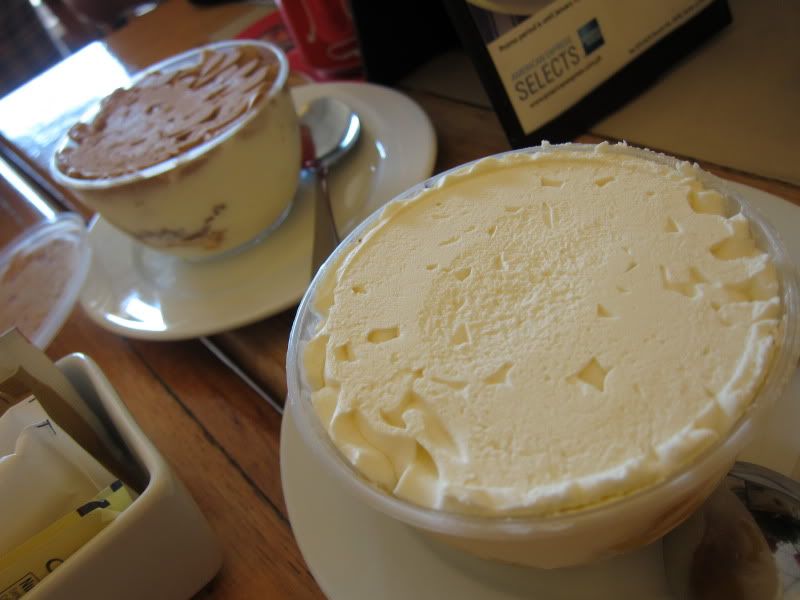 Toblerone Walnut Torte (PhP 100) and Mango Walnut Torte (PhP 95)
The walnut tortes reminds me of a cross between sans rival and an icebox cake. The Toblerone Walnut Torte is a must have!
Since this is a bakery cafe, Mom and Tina's offer a variety, and I mean variety, of breads, cakes and pastries.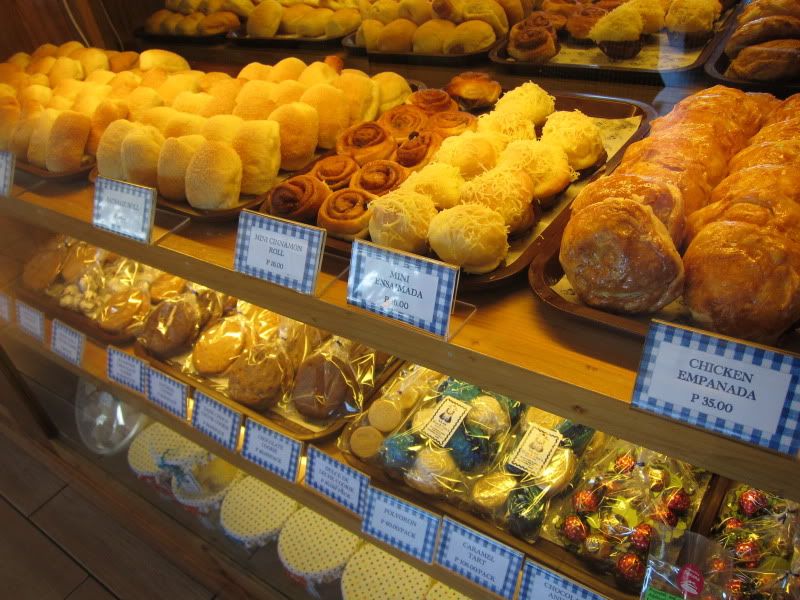 savory breads
Cupcakes!!!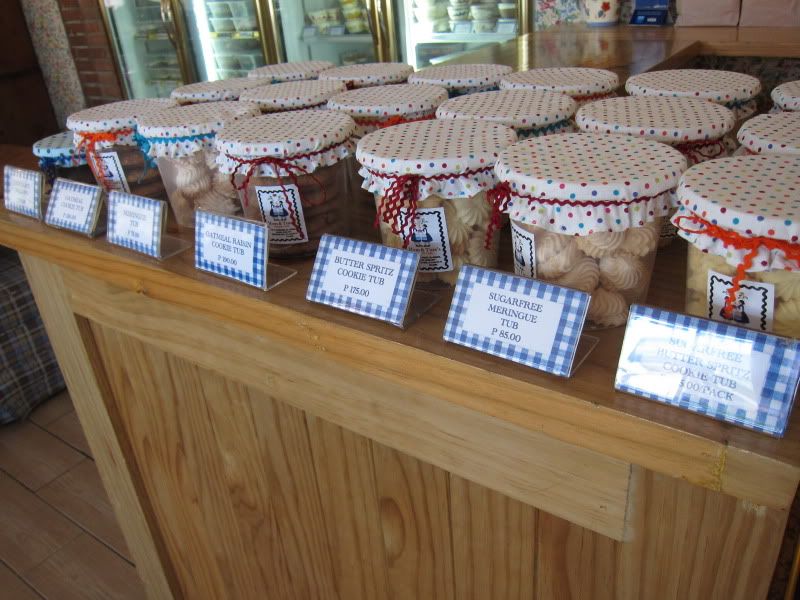 cookies and merengues
I brought home a box of cupcakes for my family.
Mocha Buttercream, Butter with frosting, Carrot and Chocolate Fudge (PhP 45/pc)
Since we paid via Citibank credit card and our bill reached PhP2000, we were able to get additional slices of cake. Since I took it home, I kind of dilapidated the slice of Caramel Cake. Nevertheless, it was gooood.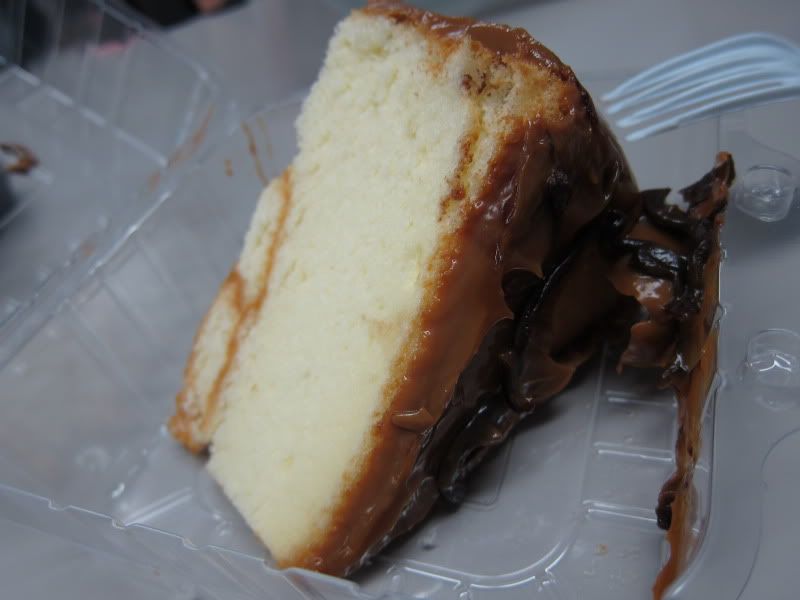 I have nothing bad to say about Mom and Tina's; food was excellent and service was fast. Keep it at that and for sure a lot of customers would be coming back.
Mom and Tina's Bakery Cafe is located at FRDC Building, 106 E. Rodriguez Jr. Ave. (C-5), Pasig City.