It's not a secret that I haven't had a serious relationship and that I haven't committed to anyone for reasons that even I am not aware of. Well, maybe things will change soon. *winks*
Last weekend was spent on an adventure trip to Laiya, Batangas to celebrate the special someone's birthday. It was my first time to go there commuting and save for the long walk from the main road to the resort, it wasn't really that difficult. We boarded a bus to Lipa from Cubao then got off at the terminal. From there we rode a jeep to San Juan (and found out on the way back that there was an airconditioned van which was a real bummer) and another jeep to Laiya. We then trekked towards the resort which felt really, really far because of the scorching sun. after what felt like eternity, we then reached our destination:
Estrellas de Mendoza Playa
.
EMPR is the only high-rise resort in the area. The resort was practically empty when we arrived because one, we were there on a Sunday; and two, it was super low season. Talk about privacy. The room was spacious and it had two beds: queen size and double size. It can probably fit four people maximum.
Oh yeah. That's Jed Madela on the TV. Haha.
Coffee and tea.
View from our room
I've always favored the sea over the pool but Laiya beach is just too rocky for my taste. EMPR's shore however is different as it is not as rocky and I was amazed when I saw that the sand extended to a far distance at low tide. The water was itchy however so I opted for the pool.
Food selection was not that many. However, I find their food above average as compared to other resort food. They have huge servings which always got me into trouble because I can't finish everything and he hates leftovers so he gobbles up what I can't ingest. Hehe. I hated their mango shake though because it was made from a powdered drink. Eew.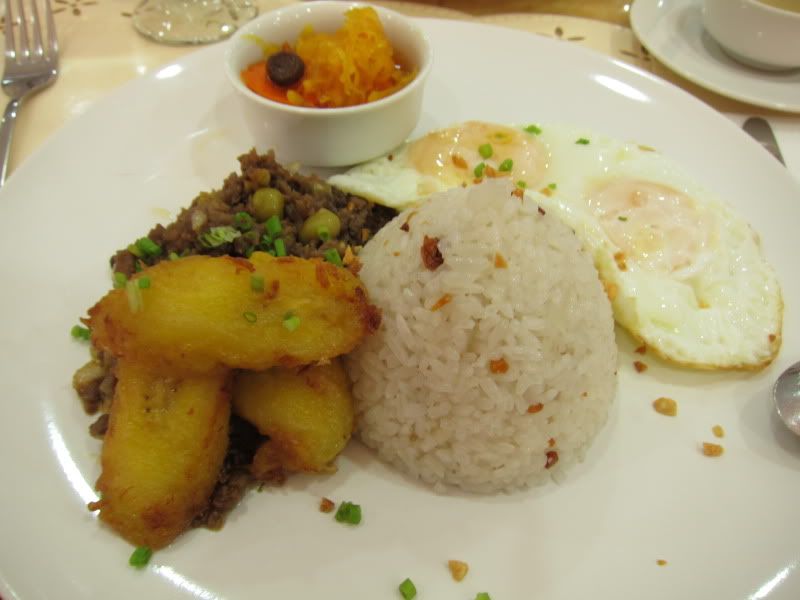 Arroz ala Cubana
Pasta, another pasta and nachos
Breakfast -- I can't finish the pancakes.
Overall it was a superb weekend and I'm looking forward to more of this. :) I'm ending with this song by Train.
And if I'm addicted to loving you
And you're addicted to my love too
We can be them two birds of a feather
That flock together :)