It was high time to have my hair re-permed as the waves are not evident anymore. I did research and was surprised by the popularity of this Korean salon in Jupiter st. named
Beauty Brick Hair Art Studio
.
I was scheduled at 8 AM, the earliest I've ever been to a salon. I've never reached the office at 9 AM, much more at 8, but I was really adamant at getting a change that I woke up really early for this. I was shocked that I was already 6th in line when I got there. I was kind of apalled because why would they schedule 6 people at the same time slot when they only have two machines and one stylist, Mr. Shin? I got my answer minutes after.
They have a systematic way of handling their clients. I think everyone got to touch my hair. There was somebody assigned to do the shampoo, winding, medicine application and blowdrying. Of course, Mr. Shin is the only one who cuts and gives opinions about styling.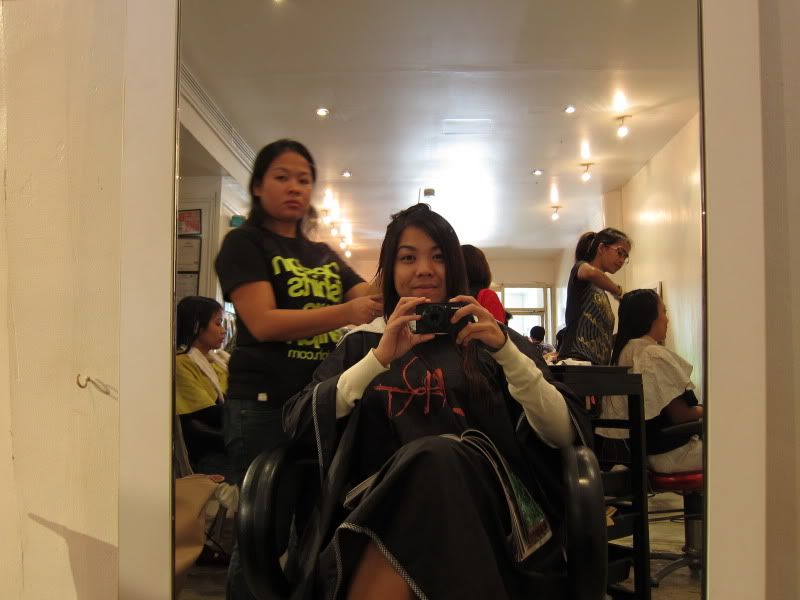 While winding :)
The digiperm lasted for about 4 hours and costs PhP3500 but it was super worth it! My previous service did not include hair treatment and I was really happy that it was included here. I also think my curls were better this time. Proof?
I opted to wear something really comfortable because I anticipated that I'll be immersed in serious beautification. LOL.
top: Topshop
cardigan: Mango
skirt: Cacharel from HK
shoes: Charlie
necklace: Landmark
I swear, nobody's going to do my curls again. Mr. Shin is the best!
*****
Beauty Brick Hair Art Studio
Unit 103 Dona Consolacion Bldg., 122 Jupiter St. Bel-air Makati City
(beside Red Ribbon)