I accidentally passed by SM Megatrade Hall last week and found out that there was a warehouse sale ongoing. I think I went overboard with my haul.
The M.A.C. ones were selling for 70% off. Sounds too good to br true right? I suspected that they might be Singapore items but they claimed that it came from Canada. I should have trusted my gut when I saw the concealer palette as I am sure that M.A.C. has never released anything like that. It came from North America alright, however as I found out through reasearch, they were still dupes. This was how their booth looked like, with hundreds of dupe items haha:
I bought a lot of items to which now I am really disappointed. You see, I'd rather buy something unbranded than to go for a knockoff. I've tried the blushes thoug and surprisingly, they were really pigmented. The "mineral" was a little too glittery though. I'd probably use it at night only. For PhP 300 each, they were not bad at all.
I also got myself a Wonderwoman eyeshadow palette because I need something shimmery for Liz's wedding in March. It was selling for PhP500. If you plan to the real thing, you need to know two things: 1) M.A.C.'s Wonderwoman palette only contains 4 shadows and 2) their eyeshadows never come with an applicator. I haven't tested this yet but I'm hoping taht it would not turn out chalky as I really like the colors.
This one I don't really care if it's not real. I need a shadow to be used to don the smokey eye look. It was selling for PhP150.
To end the M.A.C. dupe purchase, I got a lipstick and a lip gloss. I needed a lip color to suit the heavy eye make-up look so this fitted perfectly because it was really muted. The gloss was kind of flavored.
Now to the legitimate purchases.
Digital Traincase,
which is where I get my round lippies, had a booth there but I found out that The Makeup Store were selling them for 10 pesos less. I got three colors: Indian Pink, Fig and Hermes. Of the three, I fell in love with the perefect pink shade of Fig. Indian Pink was more in the coral family while Hermes was in the neutrals.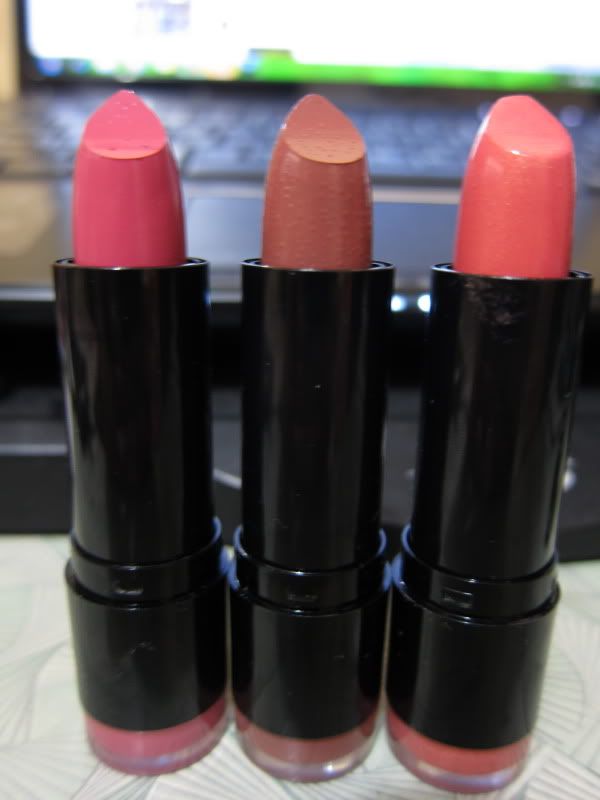 Fig, Hermes, Indian Pink
Because of my officemate, I was also convinced to get a primer. I was not really blessed with barely there pores so I need one to minimize them.
So I'm still hald and half with my purchases. Though the dupes work, I still can't get over the fact that they were not authentic. It's just as bad as using fake Louis Vuitton and Longchamp purses. I actually cringe when I see people carrying those because when you own one, you can easily identify the fake ones. It's just a good thing that cosmetics are something that you do not really flaunt. But if your cosmetics are actually working, why guise it in the name of a known but expensive brand? Why not brand it some other name instead? If it works and it's a hell lot cheaper, I'm sure it will gain patronage.
My two cents.