Unlike other Asian cuisines, I've never really pinned down Singaporean cuisine. My knowledge of their food is limited to Hainanese Chicken and Chili Crab and nothing more. I only know of one Singaporean restaurant here in the Philippines and that would be Wee Nam Kee, so I got pretty curious when I saw Sentosa Singaporean Restaurant at the Shangri-La Plaza Mall. I had the chance to eat there with my MBA friends one Sunday.
Being really hungry, we did not bother to ask for the house specialty and instead relied on our guts on what to order. They were serving caramelized nuts as free appetizers.
We decided to get two types of rice and settled for Nonya Fried Rice and Thai Bagoong Fried Rice. The Nonya Fried Rice was somewhat similar to Yang Chow Rice plus pork floss and the waiter told us that it was actually designed for kids. The Bagoong Fried Rice could use a little more bagoong (shrimp paste). Both can serve 3 people.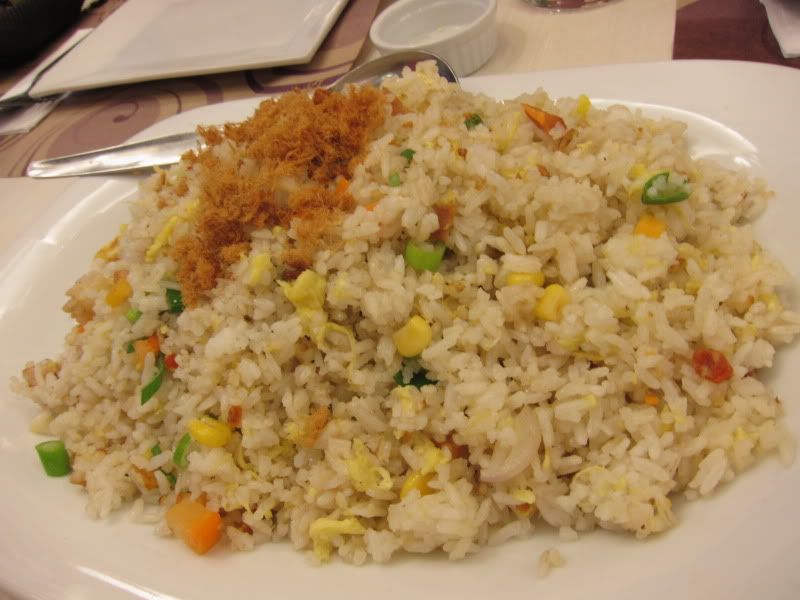 Nonya Fried Rice (PhP 220)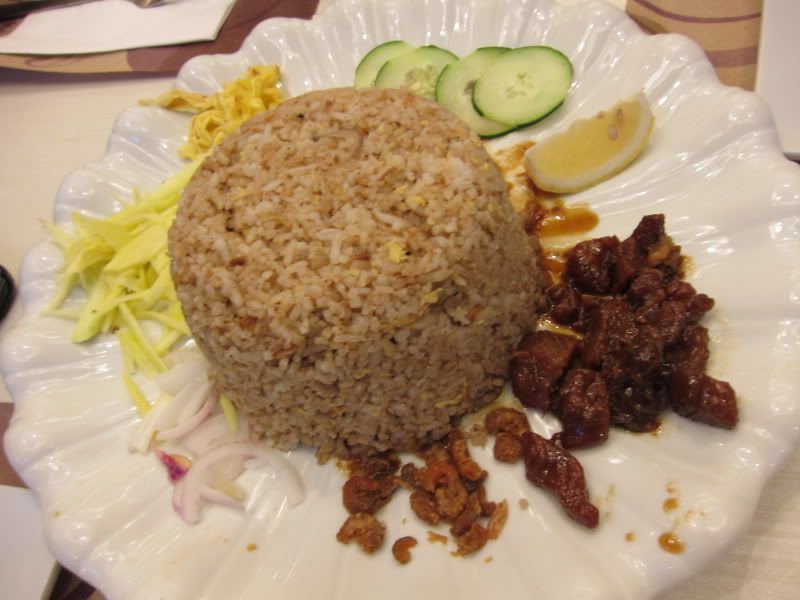 Bagoong Fried Rice (PhP 220)
We tried to balance our meal by having fish, pork, chicken and veggies. Since I was a big fan of Hainanese Chicken, we just had to have the Singaporean Boneless Hainanese Chicken on our table. We had the whole chicken to satisfy all 7 of us. The chicken came with 3 condiments: minced ginger, chili and that sweet and salty sauce that I do not really know what to call.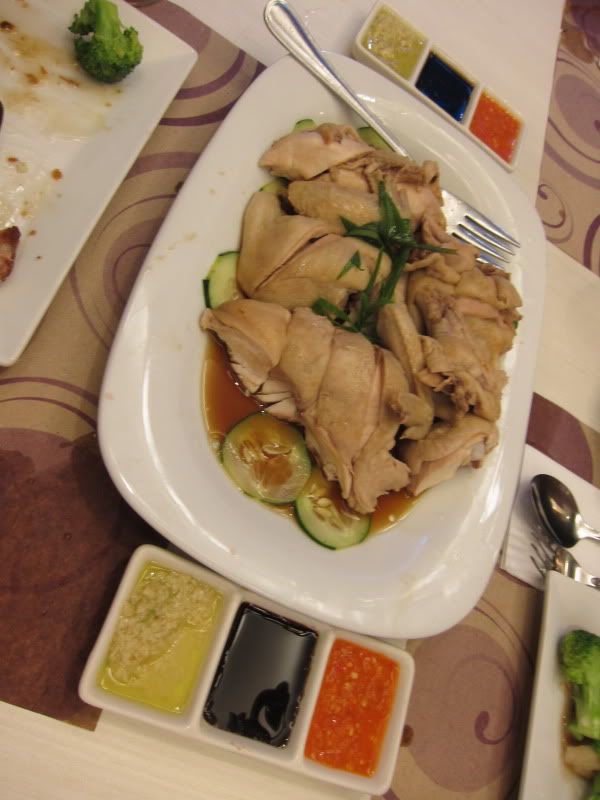 Singaporean Boneless Hainnese Chicken (whole - PhP690; half - Php 350)
We also had the Sentosa Garlic Spareribs and it was yummy. I looooove garlic! Serving could have been more though.
Sentosa Garlic Spareribs (PhP 270)
I also liked the Crispy Fish with Mango Singaporean Style, well save for its very long name. The sour and sweet taste of the green and ripe mango complimented the sweet sauce of the fish.
Crispy Fish with Mango Singaporean Style (PhP 295)
I personally feel that a meal is incomplete without the greens so I suggested that we get the Sauteed Brocolli with Scallop in XO Sauce. I am a huge brocolli eater! Too bad I can count the brocolli and since we were seven, we'll be getting one piece each haha!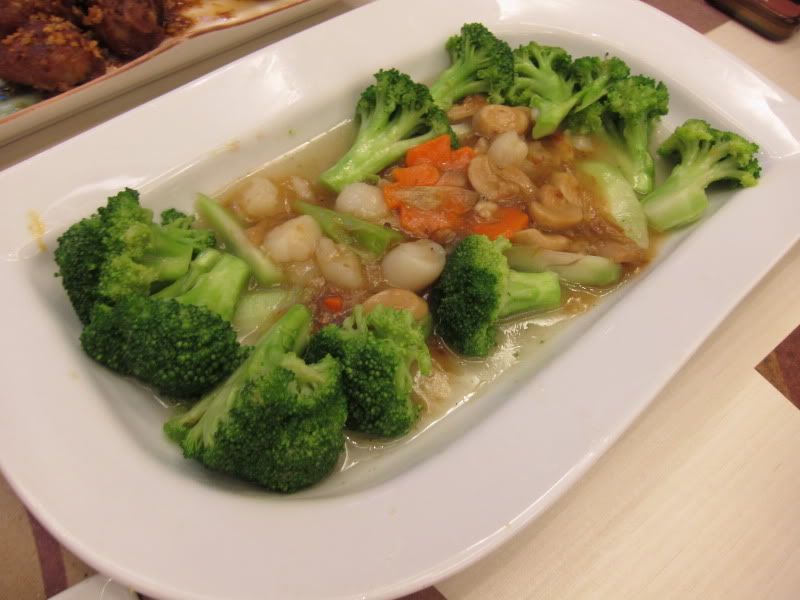 Sauteed Brocolli with scallop in XO Sauce (PhP 245)
My friend Jet tried the Crysanthemum Iced Tea. I've never liked those floral teas, they remind me of an altar. Worse, water from a flower vase. Recently, I've developed a special dislike for chrysanthemum. Chrysanthemum is bad vibes. Bad vibes go away. Jet said it was good though.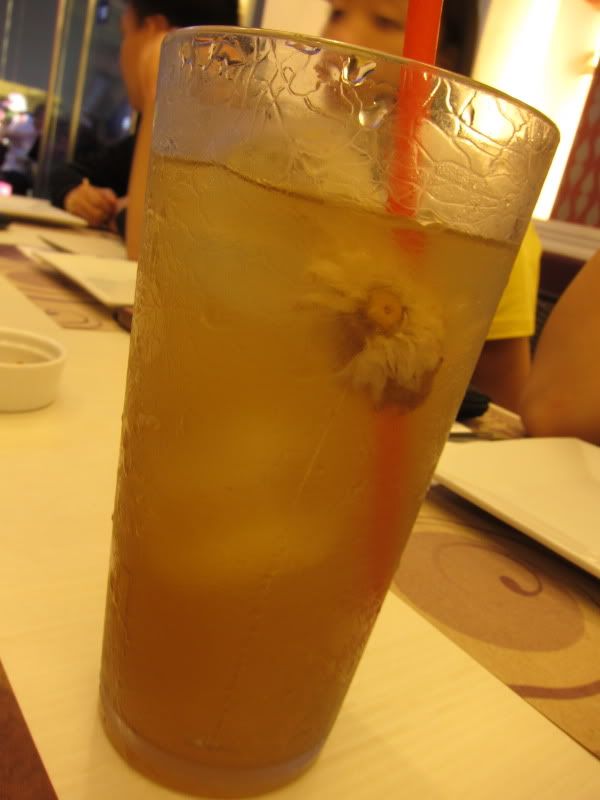 Chrysanthemum Iced Tea (bottomless) (PhP 85)
Eeeew see the flower?!
Three of us tried the
Bandung Rose Milk Tea with Grass Jelly.
Well, I like milk tea but I forgot about the rose part of the drink. I don't know if it was supposed to taste like lychee because I've never munched on a rose. Uhmm, I've never really liked lychees either so this was something I'll charge to experience.
Since we used my Citibank credit card, we got a free Pad Thai. I've had better Pad Thais but what the hell this was for free.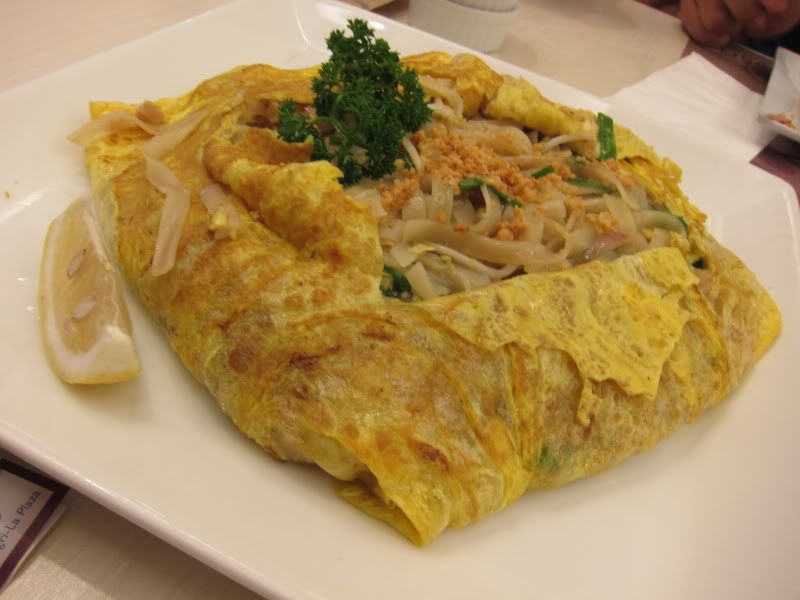 Overall, the food was good but the servings were small so it was a so-so experience for me. I recommend the Sentosa Garlic Spareribs and the fish dish with the long name.
Sentosa Singaporean Restaurant
Level 6, The Ledge, Shangri-La Plaza Mall
Mandaluyong City