So I vowed not to be bitter being single (
again
still) on yet another Valentine's Day. I decided to doll myself up because doing that lifts my spirits up and it makes me feel good about myself. I guess everyone's confidence is boosted whenever they think and feel that they look more than presentable. So there, no uniform for me today. I call this my "Lakas Makayaman" outfit.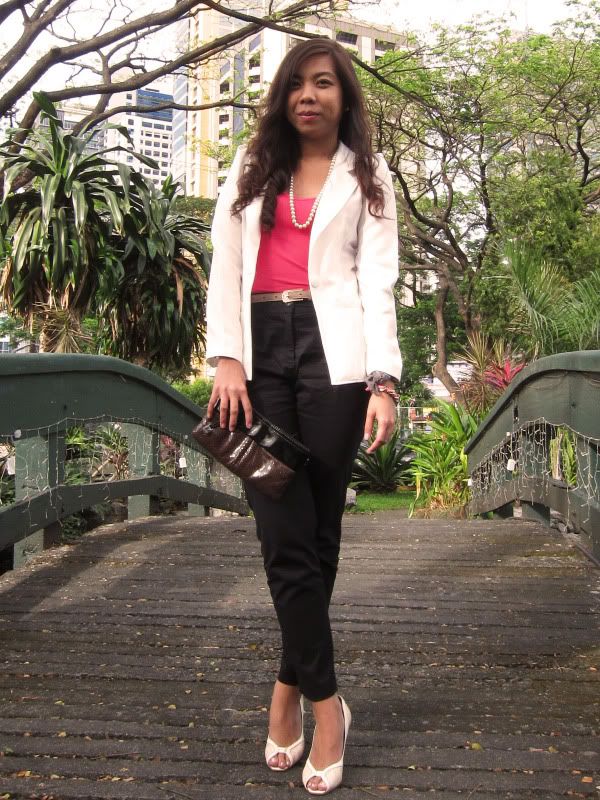 Forever 21 tank top | From Bangkok blazer and pants | Dorothy Perkins belt |
I've been searching for structured blazers for so long that my heart leaped with joy when I saw this store in Bangkok which sells only blazers. I got this white blazer for THB 250 (PHP 350) only! Something of this kind would retail to a close to PHP 1000. The pants fit me to a T. The store where I got it fro was probably the only one allowing shoppers to fit their garments. It was a good thing because I absolutely cannot buy bottoms without fitting them. Thanks to my huge hips and thighs.
Extreme Finds bracelets | Nine West clutch | Buffalo watch | Asprey red strap
My watch's strap was originally white and it was calling for a replacement. I resurrected it with a red one from Asprey. That only costed me PHP 350.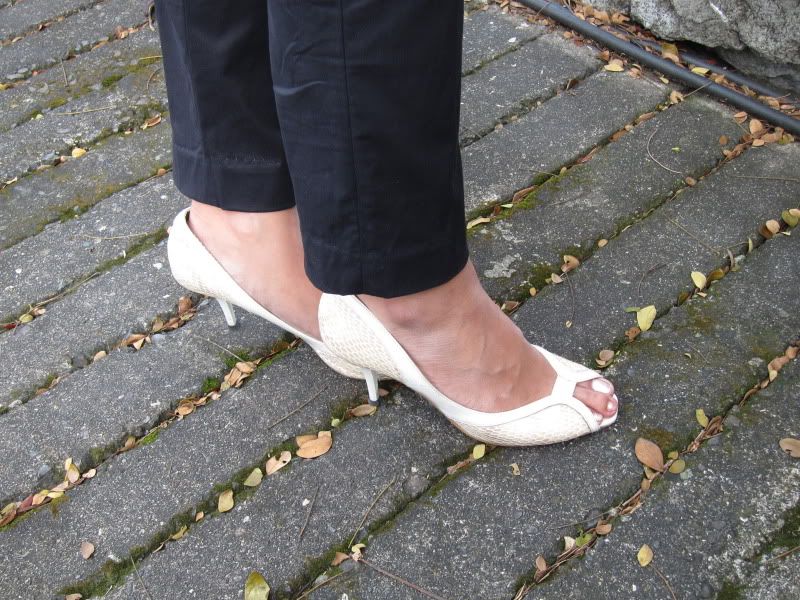 Charles and Keith shoes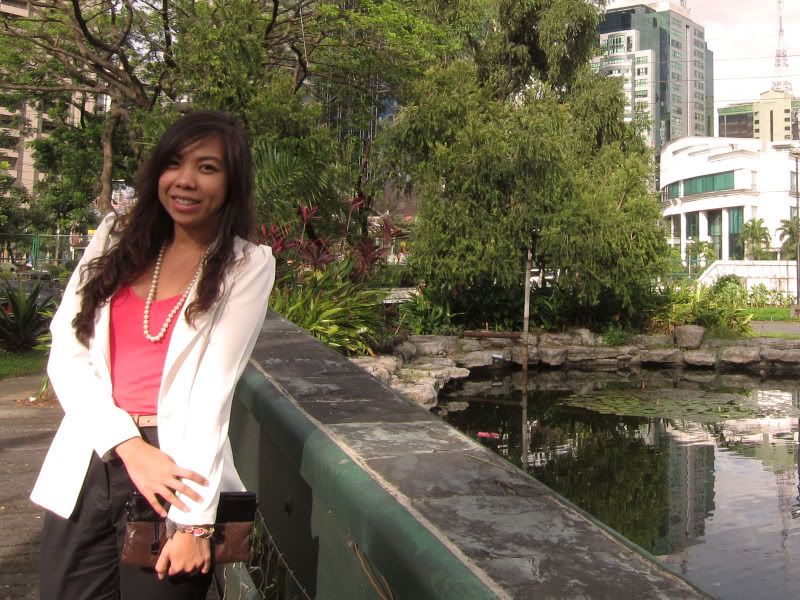 So how did I spend today? I had lunch with Nica, MBA classmate turned Petron officemate, at Bon Chon. It was her Bon Chon baptism.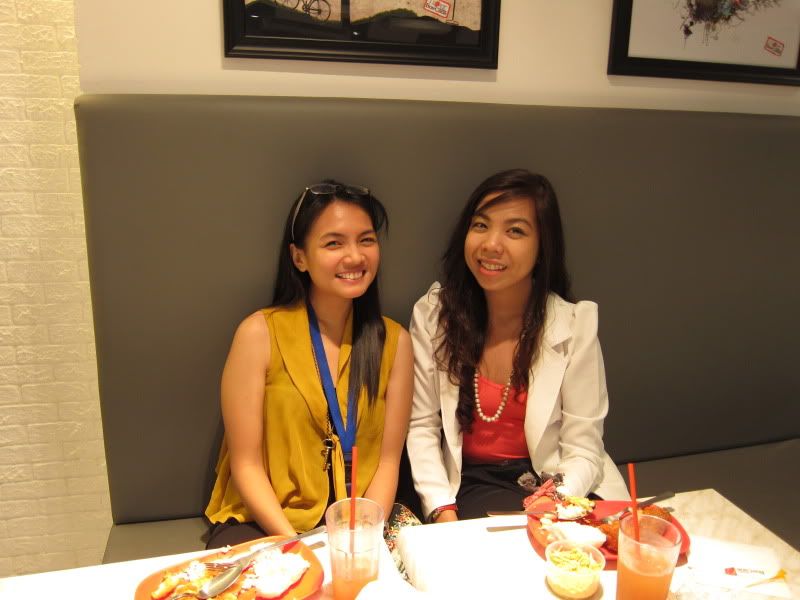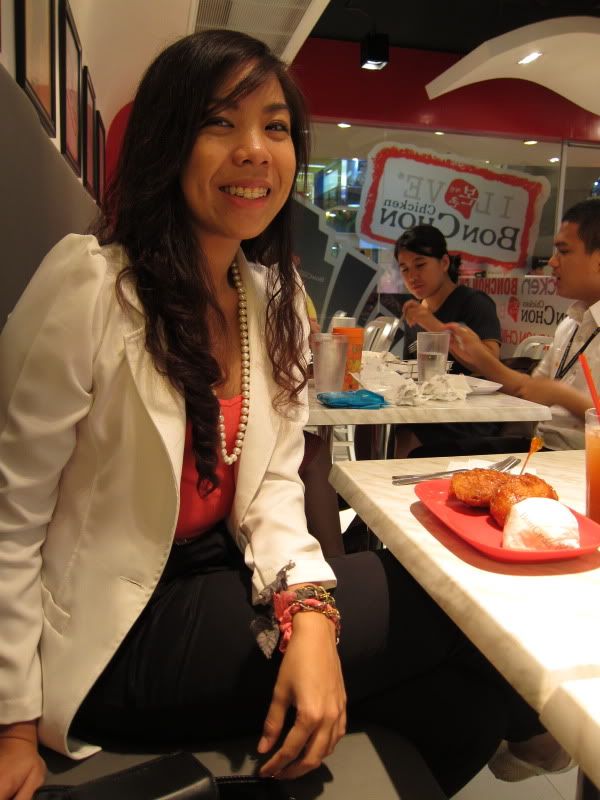 Then, as requested by my father, I bought my mother flowers. Even if it was ridiculously overpriced! Seriously, 500 pesos for 3 roses??? Kudos to those who have successfully marketed Valentine's Day! I was actually avoiding the mall because I kind of do not want surround myself with lovebirds in my current state.
Credits to MJ, who took my photos, and Jernel who...uhmmm...what did you do Jernel? LOL.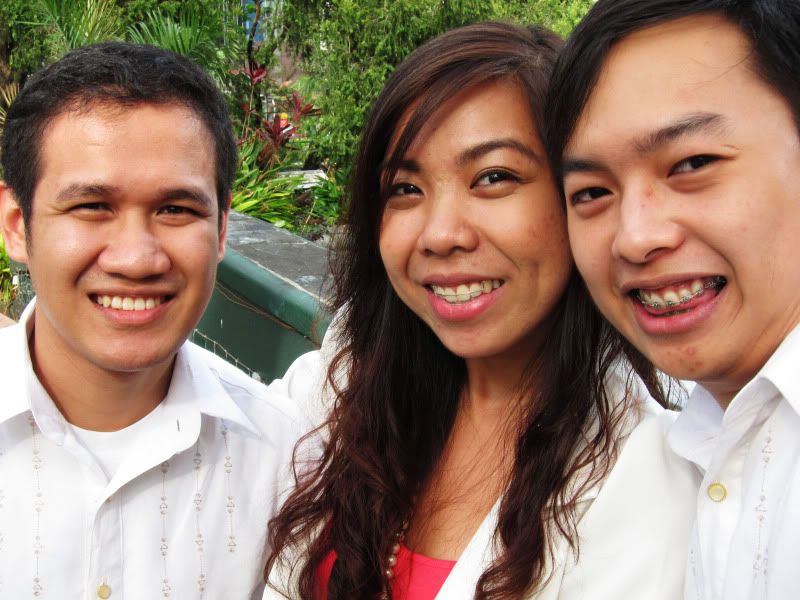 It's just another Tuesday right? SO NOT.
Side story: I was terribly craving for Happy Lemon's Cocoa with Rock Salt and Cheese so even if it was still office hours, I crossed over to Megamall to get one. I realized that I had no more cash with me so I headed over to the ATMs at the second floor. After withdrawing, I turned around and was startled when I saw this person in the same queue as I was. Why?
First, he is (supposed to be) located far away from me, 139 kilometers to be exact, so what the hell was he doing there?
Second, of all the ATMs to withdraw from, we had to be in the same queue? Seriously?
Third, WTF?! Our paths just had to cross on Valentine's. Good play there universe. Good play.
For a moment I froze and did not really know what to say. I just muttered the first thing that came to mind and thank heavens it wasn't anything stupid. I was just not that prepared for that encounter. Emotionally, at least. Physically, I think I had it in the bag. #self-confidence