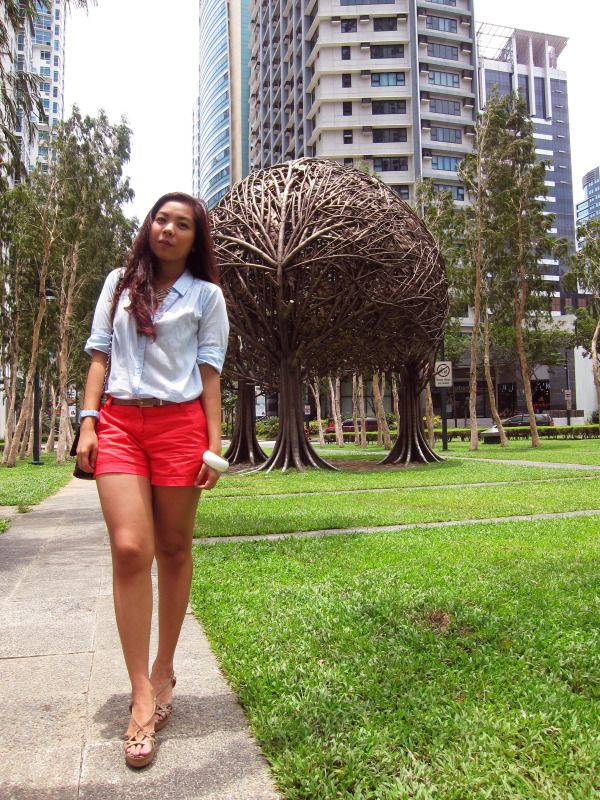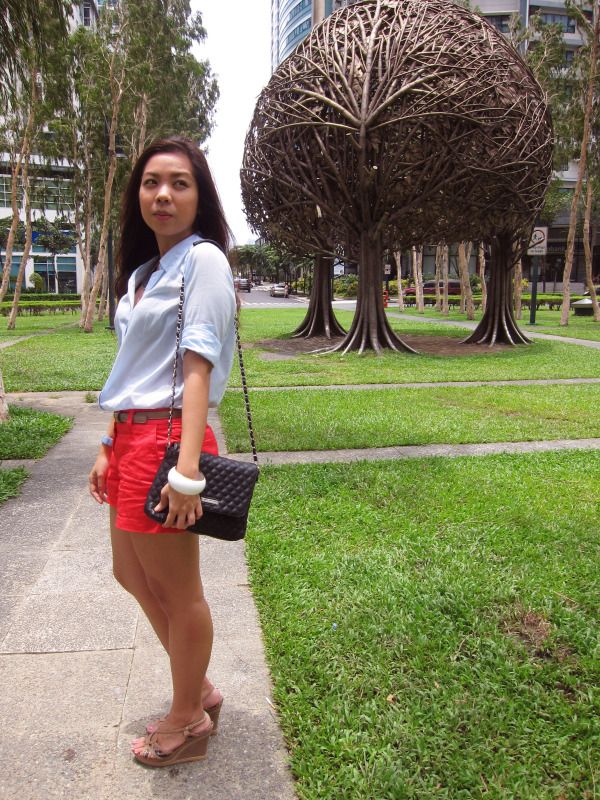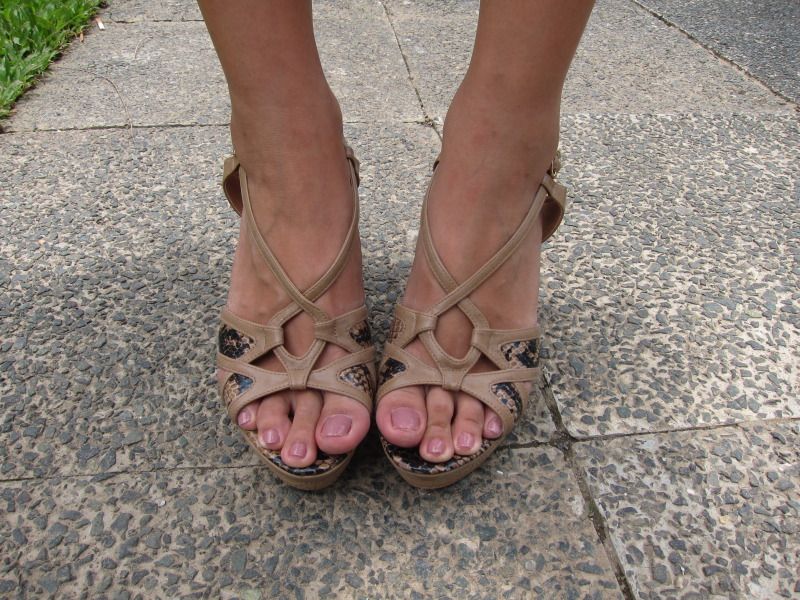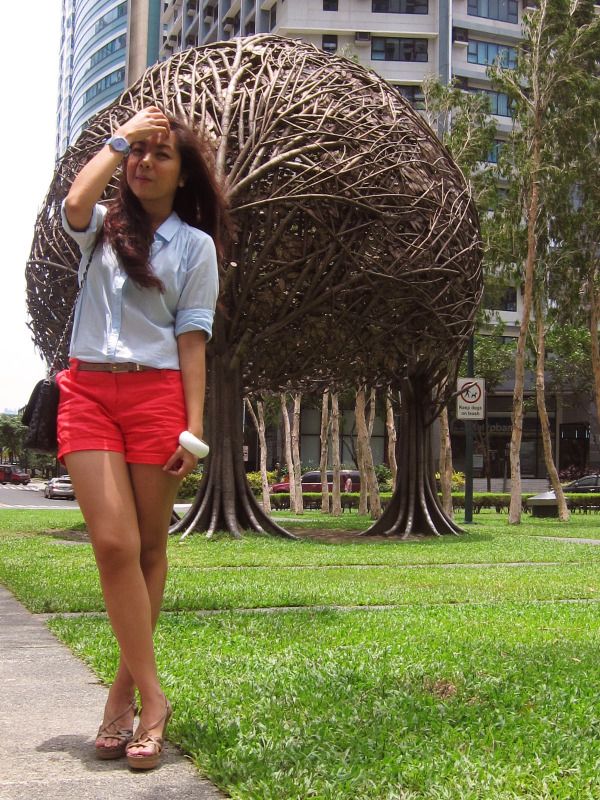 H&M shirt | Mango shorts and bag | Charles & Keith shoes
Rubi accessories | Swatch watch
I told myself that next time, I won't invest my feelings on someone whose intentions I'm not sure of. I won't waste my time and be with a man whose feelings are fleeting and who is not willing to stay for the long run. I vowed to be extra careful as I don't want to get hurt again. Truth be told, there are days when I doubt myself if I have truly recovered from all the pain that I went through. I never want to see myself going through all of that again.
I diverted my attention to someone else, hell I diverted it to not just one. I used what I went through as an excuse to play around. But you know, in spite of, there was this one whom I think I really like(d) but logic and reason tells me that nope, it's not going to work out. So I'm trying to get hold of my sanity while I haven't lost it yet and figure out a way to get out of it while I still can. Because I know that if this continues any longer, I would just end up disappointed and yet again, hurt. I can't be with someone whose aspirations are unclear. More than that, I can't be with someone who's insensitive and can't even figure out what the hell he did wrong. I actually don't even know if he likes or will ever get to see me in that level but I guess it's better to walk away as early as now. I don't want to end up in another situation wherein I'm the only one trying to make everything work out. I don't want to be in that position wherein I'm the easiest to give up. Simply put, I don't want to fight another battle which from the beginning I have very slim chances of winning.
It's no secret that I tend to question all the time if ever I'd get to be successful in this department. All my insecurities pile up with every morsel of rejection that come my way. That maybe, it's I who's doing it all wrong. That maybe, I am to blame. That maybe, I'm just not likable enough. It's hard to build up your confidence after someone slams you hard on the floor like that.
I won't try to make up an excuse but the heartbreak I recently went through contributed to the filling up of my closet. I had to channel my energy somewhere else so if I wasn't out with friends, eating or drinking or both, I was shopping. I like dressing up, it makes me feel good about myself. It's my way of turning my otherwise depressing mood around.
I'm thankful for friends and family that in spite of my quirks never gave up on me. Speaking of family, this is how I spent my Sunday. Papa's leaving on Wednesday so we ate out at Uncle Cheffy earlier. Their Panizza is the best! You can even get half and half to taste two variants.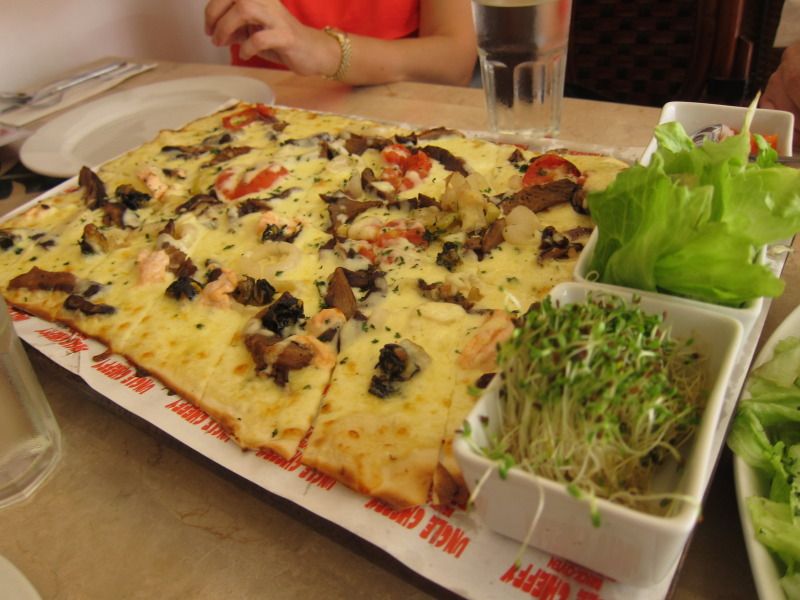 Oh and we also got the Surf and Turf Platter. I'm quite confused because the branch in Ortigas has this at only P880, half of the Burgos Cirle (and all the other branches) price which is at P1750. It was a smorgasbord of meat and fish with all the confusing sauces. I just poured them over my plate and I did not even know what they were. It also came with a humongous platter of rice and salad which by the way is just an assortment of different greens. Do not expect too much.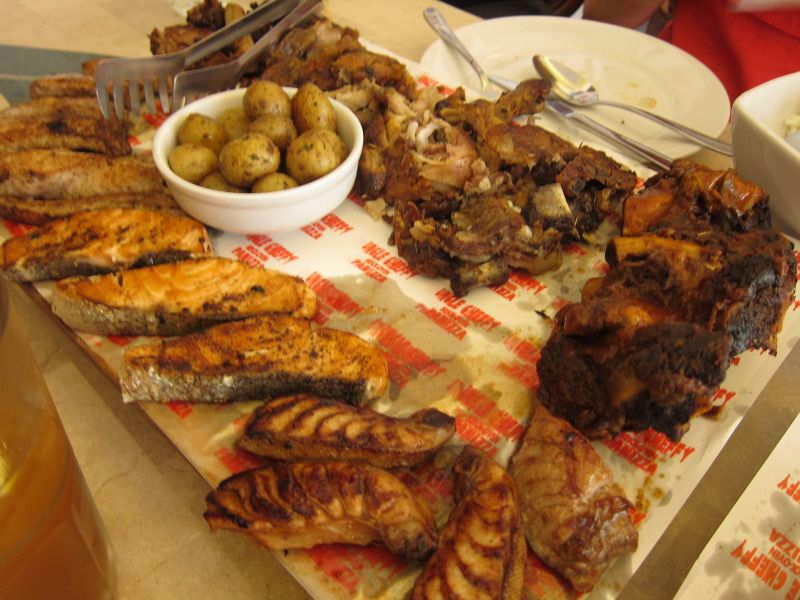 We transferred to Bonifacio High Street and because surprisingly the sun was back with a vengeance, we decided to go Jamba Juicing.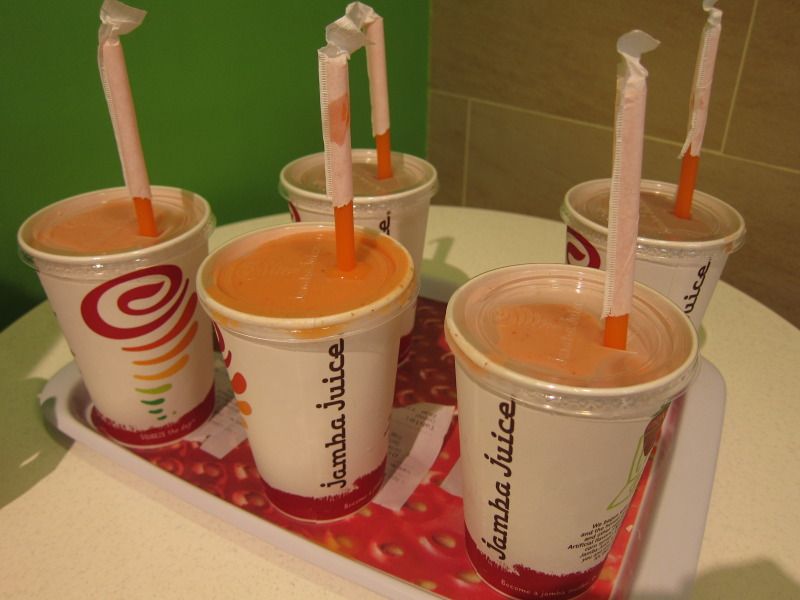 And to complete my day, I saw this familiar logo on a site at the new Bonifacio Central. Cotton On is coming to Manila!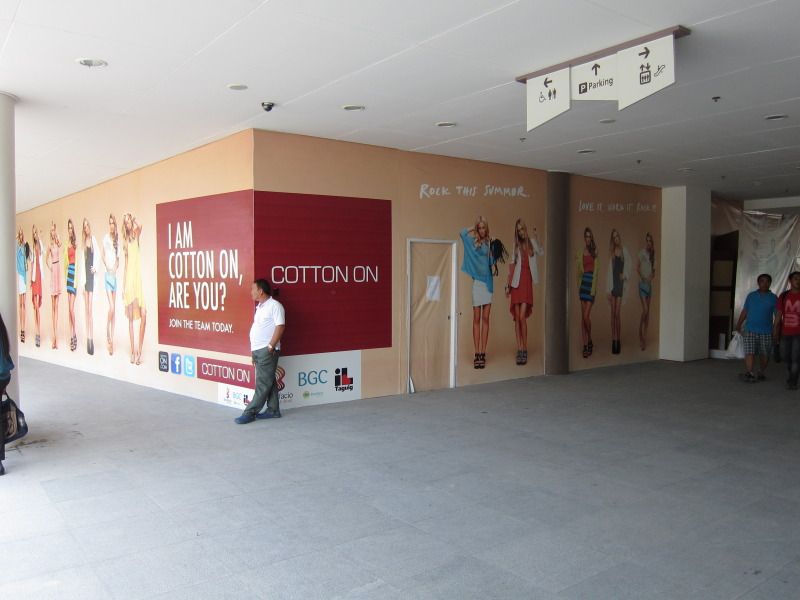 Grabe manong panira ka naman ng piktyur.
Anyhow, what led me to writing this post? I guess it was just that random moment wherein I had to rethink, restrategize and put some perspective in my currently not so cohesive life. I mean, I'm okay. I just had to deal with some self-issues and it just so happened that they attacked me today. Nothing to worry about folks.
Live life and be a rockstar.