I've always had problematic skin. I was not blessed with barely there pores and my hormones decided to continue to wreak havoc long after my teenage years. It took a while before my skin decided to somehow behave. I would like to share how I did it.
Okay, I still credit my dermatologist for most of it. Never, ever do trial and error on your skin. If you can invest on clothes and shoes, for heaven's sake do not scrimp on what should be allotted for your face. Also, what works for one may not have the same effect on you. I remember trying out Proactiv and that system just made me break out more. I have different regimens on different days of the week. But here's a rundown of products that I use.
Morning
1. Soap
I use an anti-acne soap, simply called the yellow soap, to control the oil and prevent breakouts. I used to use Physiogel to cleanse. It's actually good because it's gentle but my dermatologist said that I need something stronger.
2. Dickinson's Witch Hazel Toner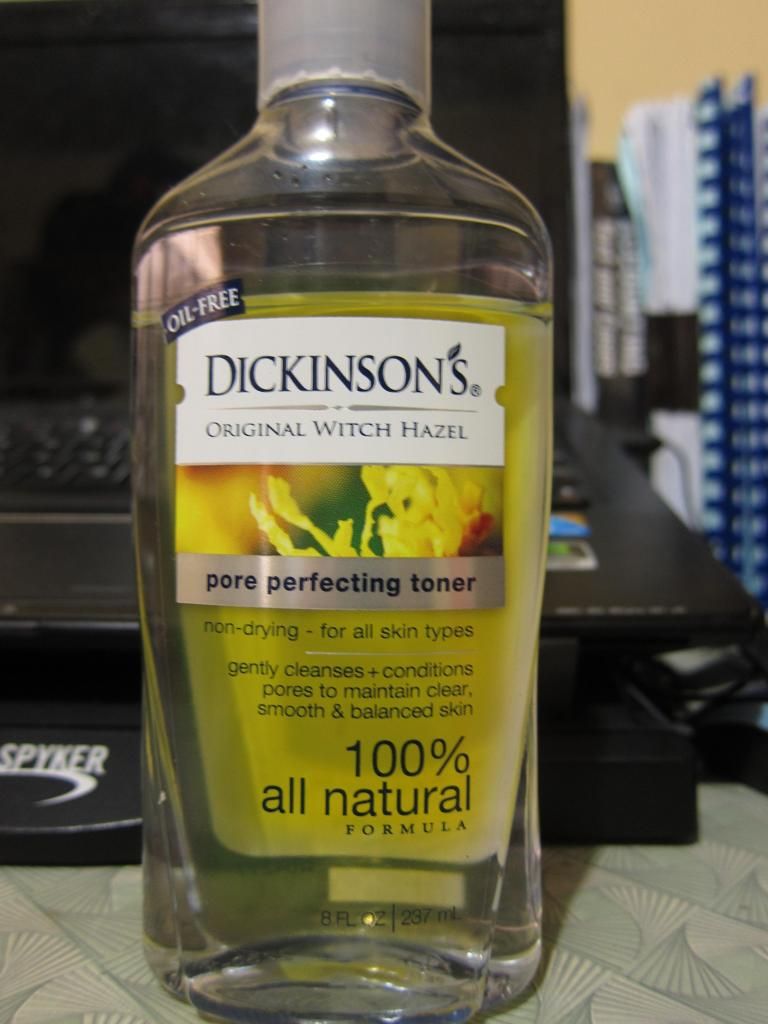 People in forums were raving about this. I was lucky that it developed a good relationship with my skin. It could smell better though but after finishing three bottles, I got accustomed to the smell and it doesn't bother me anymore. Bonus that it's also inexpensive. I get this from Healthy Options and this 237 mL bottle costs a little less than PhP 300.
3. Erythromycin Solution
This was also prescribed by my dermatologust and is some sort of antibiotic to prevent breakouts.
4. Cetaphil Moisturizer
So what do you need the misturizer for? It's a misconception that if you have oily face then you would not need to moisturize. Wrong. The oil glands would actually produce more oil if it feels that the skin is getting dry. Prior to this I was using Aveeno but I could not find the same variant I was using anywhere here in Manila so I decided to switch. Both brands are for sensitive skin anyway so I figured I'm pretty safe. I got this at Duty Free Philippines but I think it's also available at our local drugstores.
5. VMV Armada SPF 45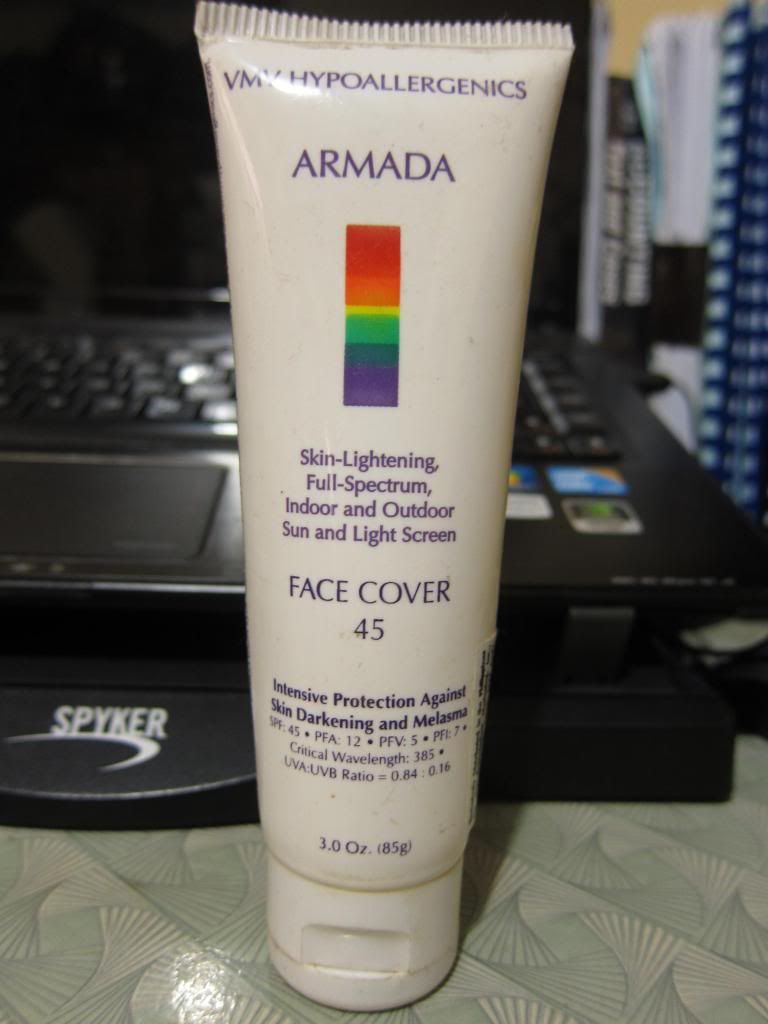 It is damn expensive, the larger one costs PhP 1600 and the smaller at PhP900, but it lasted me a good 1.5 years. I decided to go for a cheaper sunblock from Healthy Options but it made my face produce so much oil that oil control films could not be any happier. I decided that this is probably the best facial sunblock known to mankind; or maybe to my face. It's lightweight and designed for, what else, sensitive skin. You need sunblock not just to protect yourself from the UV rays but the sun actually contributes to the discoloration of the skin leading to darker marks.
6. Evian Facial Water
I must admit, I bought this just because it felt cool to carry this around because I travel a lot and it will help cool me down. The spray says that it will also set your make up which I don't have any idea how. All I know is that water is always good for hydrating the skin.
Night
1. Makeup Removers
Never, ever, ever go to bed wearing make up. Even when I'm so wasted that I would just want to plop on the bed to sleep, I still remove my make up and brush my teeth. To hell with the alcohol, my pores cannot breathe. I use Maybelline to remove eye make up and The Face Shop's Black Sugar Cleansing Cream for the face. Before, I used Etude House's cleansing oil but they discontinued the product and replaced it with the Baking Soda cream which I find unhygienic to use because it is contained in a tub. Meaning, that I would have to repeatedly get the product with my fingers. I mean, my hands are clean and all but that sure exposes the cream to a lot of bacteria everytime the tub is opened.
2. Kojic Soap
Now I call this the orange soap to simplify my life. I know that Kojic does wonders but I'm too lazy to ask my derma for the specifics. I know that it lightens the marks and I'm solved with that.
3. Derma Medications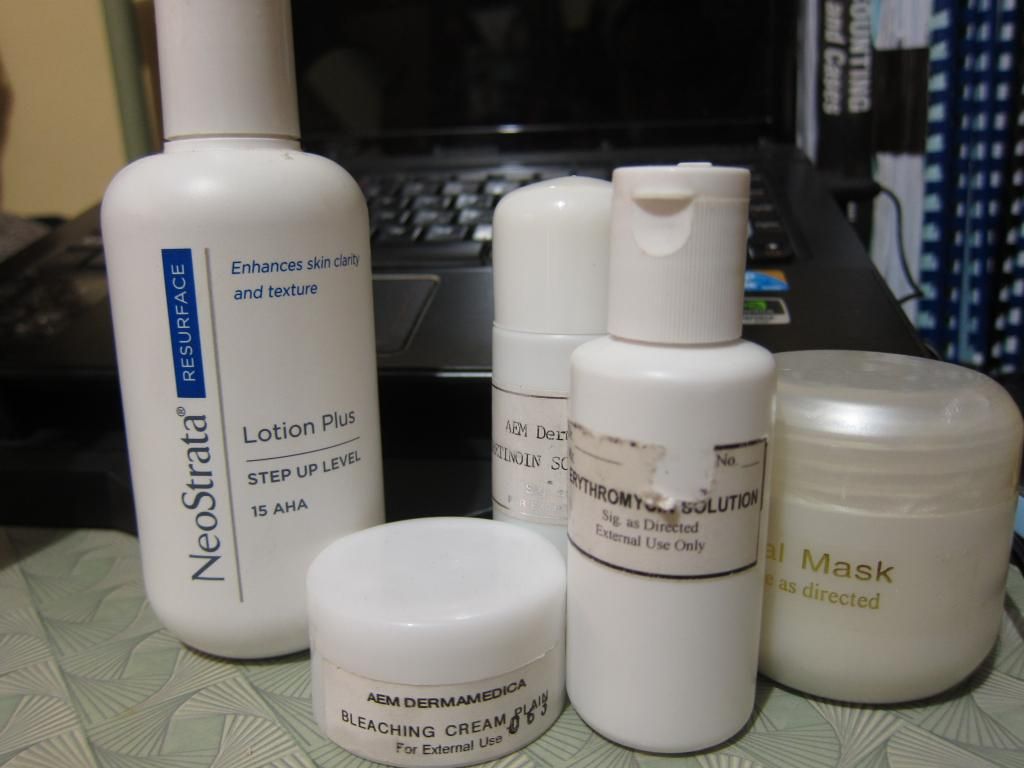 I three sets actually.
Monday, Wednesday and Friday: Tretinoin and Bleaching Cream
Tuesday and Saturday: AHA Lotion
Thursday and Sunday: Facial Mask
Okay this caused confusion in the beginning but as time passed by, I memorized this routine wholeheartedly. As long as it's working then I'm fine continuing it.
My skin is not flawless. I have marks and I still get zits (blame it on the hormones and stress) but at least it's manageable now. I wish I was blessed with minuscule pores but since I wasn't, I have to make effort to take care of myself.
And that includes the monthly torture which all of us know as the facial.